DL Jericho Johnson, Armijo HS 2024
Johnson is a dominant interior disrupter and had an impressive Sophomore campaign in 2021. Just picking up his first offers from SJSU and Washington, he has ideal size for the nose tackle position, but flashes some good feet and twitch in the short area while versatile along the defensive line and doing damage from the 0-5 tech position. Violent out of his stance, he shows a strong punch and creates immediate knock-back while locking out blockers and shedding without giving up ground. More of a power rusher, he can get underneath blockers and wins with leverage while showing good speed in the box and COD abilities, especially for his size. Easily passing the initial eye test and will only continue to grow and develop, there should be other power five schools looking to offer in the near future.
LB Logan Studt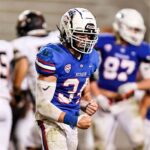 Logan Studt 6'2" | LB Buchanan | 2024 State CA , Buchanan HS 2024
Studt was just offered by Fresno State and other MWC schools should start to move in now as well. Mostly operating from the Mike backer position, he is a downhill thumper that is extremely physical in the box, explodes through contact and is a solid tackler in the open field while finishing through ball carriers. Fluid in space and when covering bigger receivers, he shows strong lateral movement abilities when weaving through traffic and fills tough tackle to tackle while able to apply pressure from multiple different angles. A high football IQ and motor kid, he is a balanced defender that will only get better through his last two years of high school.
DE/OT Kyle Stahlecker, Oakmont HS 2023
Stahlecker is a very intriguing prospect and has some good upside at the next level due to his untapped potential, athleticism and pure size. A very well put together kid with no bad weight, he can play multiple positions on both sides of the ball at the next level and is in line for a huge 2022 season for Oakmont. Coming off the edge, he has a quick first step and creates immediate separation from blockers with his length while flashing that he can bend and speed rush off the edge while dipping under a high punch. In the run game, he is violent at the POA, a strong tackler and shows good closing speed when tracking down ball carriers backside. It will not be long until he collects his first power five offer
OL Losipini Tupou Losipini Tupou 6'2" | OL Riordan | 2025 CA , Archbiship Riordan HS 2025 
Tupou is one of the best young offensive lineman across the state and was a very productive and violent player in the WCAL as only a Freshman last year. He is a natural bender in his stance and shows good leg drive and a strong base on base blocks while playing with a low pad level and creating positive leverage quickly. Patient in pass protection, he is not a lunger and stays patient while able to kick out and finish speed rushers and anchor against the bull. Athletic enough to combo and scrape to the second level, he consistently finishes blocks and will only continue to grow and develop over the next three seasons.