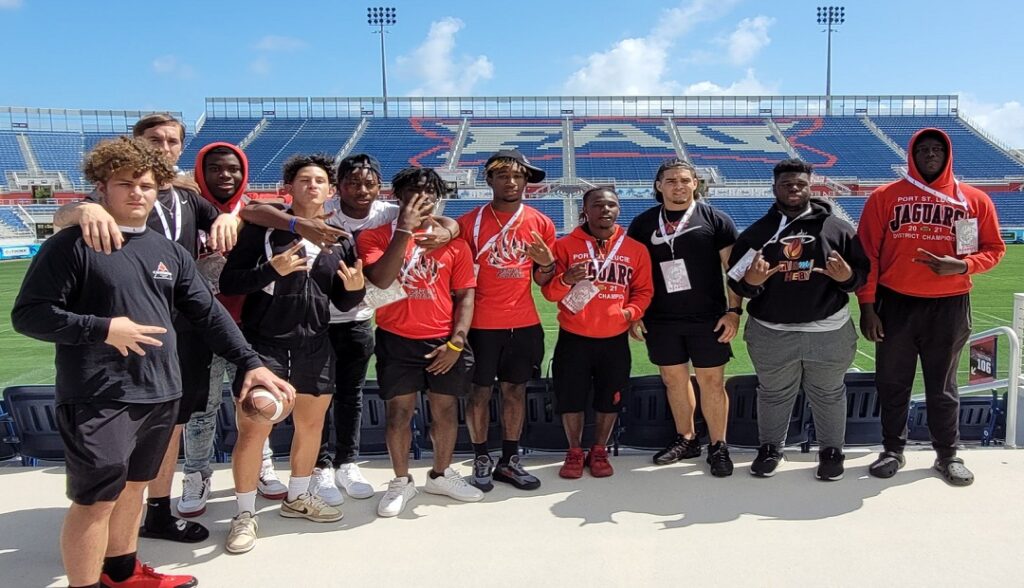 Posted On: 06/21/22 8:30 AM
PORT ST. LUCIE FOOTBALL 2022.
Head Coach: Chris Dent
2021 Record: 7-3
THE JAGUARS
Even though they dropped a first-round state playoff game at home to Lake Wales, this is a program that began to turn the corner in 2021.
Other than losses to Port St. Lucie Centennial and Palm Bay Heritage, this team made huge strides – with wins against Boca Raton St. John Paul II (13-6), Riviera Beach Inlet Grove (54-6), Cocoa Space Coast (48-0), Titusville Astronaut (20-13), Okeechobee (34-7), Riviera Beach Suncoast (41-0) and Stuart South Fork (39-14).
Many of those victories were ignited about a junior class that is now a group of seniors that this team is looking to for the 2023 season.
Here is a look at some of those seniors who figure to push the Jaguars over the top this coming season:
PROSPECT WATCH
CLASS OF 2023
Sylas Bachler (OL/DL, 6-0, 230)
Saleem Felder (RB, 5-9, 180)
Fred Griffin III ( DB, 6-0, 170)
Eric Hernandez (OL/DL, 6-0, 230)
Amari Lester (DL, 6-0, 275)
Joshua Mayberry (LB, 6-0, 190)
Glenn Oakley (OL, 6-0, 240)
Santiago Rodriguez (QB, 5-10, 170)
T.J. Schuck (TE, 6-6, 195)
Jurden Sims (DB, 5-9, 160)
Robert Tatum (WR,