When I was growing up playing the best game on Earth in high school and college, we always had a saying about certain players on whether they had "track speed" or not. Yeah, some of our teammates and opponents were fast on the gridiron, but would their speed hold up on the track? I've seen more than my fair share of speedy football players give track and field a try and get dusted by kids I thought looked more inclined to sack races than 100-meter dashes. There is a big difference between "football speed" and "track speed", and when you find a prospect that possesses both it can be a gamechanger for a football program. In recruiting, there may not be information more valuable than verified track times, besides arguably verified size and weight. An eye-popping sprint time can catapult a recruit from unknown to scholarship-worthy, and sometimes from FCS/FBS into the P5 sphere of recruiting, and college coaches and recruiters are always paying attention to track and field events with keen interest. Multi-sport accolades and accomplishments solidify a player's athleticism, and I always try to make sure to write at least one or two PrepRedzone features focusing on gridiron standouts who put up blazing times on the track. Below, I put together a list of ## speedsters from all around the Midwest, some committed, some not, who had excellent track and field seasons this spring. They span multiple graduating classes and range from major P5 recruits to players without a single football offer, and I hope you enjoy reading about these dual-sport studs. Thanks for reading!
Midwest Speedsters 
Devin Alexander (Norman, OK) Class of 2024. ATH. 5'8, 160 lbs. Zero offers. Posted a 10.44 PR in the 100M on April 9th
The rising junior had a very successful track season that resulted in a 10.71 for second place in the Oklahoma 6A 100M final. Prior to that, he also ran a 10.52 and 10.44, and in his sophomore high school football season he totaled 142 carries for 826 rushing yards and 8 TDs. Alexander can break weaker tackles at his lower body for 5'8, 160 and when he gets his legs churning into full gear he really starts to show off that sub-10.5 speed. I also like his quick, active feet and how he sets up his cuts, and there are some good things going for him on film that I hope he can build on in 2022. He'll be a popular prospect on the recruiting trail when his time comes.
1st place in conference hitting a PR 10.44 pic.twitter.com/4o5iKe1TJD

— Devin (@dEV22alexander) April 10, 2022
Malachi Coleman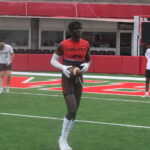 Malachi Coleman 6'5" | WR Lincoln East | 2023 State NE  (Lincoln East, NE) Class of 2023. WR. 6'5, 190 lbs. Most interested in Nebraska, Oklahoma, Michigan, and Oregon. Clocked a 10.46 100M and 21.31 200M this spring
A consensus four-star prospect who will play wideout at the next level, Coleman is a 3x USATF All-American thanks to his outrageous speed and athleticism at 6'5, 190 lbs. In addition to his 10.46 and 21.31 times this spring, the Lincoln product has also recorded a 38-inch vertical and a 10'7″ broad jump, and these gaudy numbers helped him earn 25+ D1 offers from helmet schools around the country. In the Class A 100M finals this spring, Coleman finished 2nd with a 10.58 and backed it up with another 2nd place finish in the 200M, only .1 seconds off the victor from Creighton Prep for a blazing 21.34. In his junior football highlights, his pursuit speed from the DE spot is ridiculous, and he can get up and pluck the ball out of the air as a WR like Air Bud on steroids. At 6'5, 190 his playmaking ability and athleticism are up there with almost any recruit in the country for 2023 and he's going to be a monster this fall for the Lincoln East Spartans. 
10.46 in the 100m today, 10.3 coming soon 🤞🏾 pic.twitter.com/cO1rd2UFVi

— Malachi Coleman (@ChiColeman23) May 11, 2022
Cole Cabana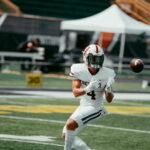 Cole Cabana 6'0" | RB Dexter | 2023 State MI  (Dexter, MI) Class of 2023. RB. 6', 185 lbs. Committed to Michigan. Ran 10.69 100M in 2021 and 10.55 in 2022
The Michigan native and commit is a 2x All-American sprinter who ran his blazing 10.55 in late May at regionals and ended up finishing 3rd at the state 100M final earlier this month. He also clocked a 22.15 in the 200M this spring, and at 6', 175 lbs last fall. he posted 2,187 AP yards and 28 TDs in only nine games of action as a SB and RB. The straight-line speed posted on the track shows up on his tape when he has the ball in his hands, and in addition to his impressive jets, he has some impressive balance and overall cutting ability in the open field. That speed is a game-changer though, as he can easily bust out a long TD run on a routine hole up the middle or cruise out and take the corner without the defense being able to lay a hand on him. With soft hands to boot, he's going to be an explosive and dynamic offensive weapon for Dexter and eventually the Wolverines.
10.55 at regionals and still recovering @AllenTrieu @RisingStars6 @phil_jacobs16 #goblue pic.twitter.com/BaOSijim3R

— Cole Cabana (@colecabana) May 21, 2022
Ryan Wingo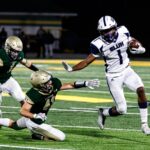 Ryan Wingo 6'2" | WR St. Louis University High | 2024 State MO  (St. Louis University High, MO) Class of 2024. WR. 6'2, 200 lbs. Holds over 30 D1 scholarship offers. Clocked a 10.55 100M and 21.31 in the 200M this spring
In a scorching 100M Class 5 state final in Missouri, the #1 ranked WR in the entire class of 2024 finished third with a 10.55 and followed it up with a third-place finish in the 200 with a 21.31. That is cookin, and at 6'2, 200 pounds going into his junior year of high school it shouldn't come as a surprise that he holds over 30 D1 FCS, FBS, and P5 offers and has recently visited Oklahoma and Oregon early into this summer camp season. In his sophomore season at powerhouse SLUH, Wingo caught 32 passes for 638 yards and 15 total TDs and averaged 46.5 yards a kick return for 844 total yards. On film, he's a smooth, strong, and fluid runner with the ball in his hands, and his vision, elusiveness, and play strength make him a threat to score every time he touches the ball. Punt returns, kick returns, deep throws, short passes, or runs out of the backfield, he can take the ball to the house wherever, whenever, and watching him easily run through tackles without breaking stride is some rare stuff.
Miles Thompson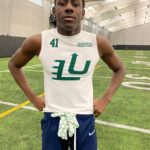 Miles Thompson 6'0" | DB Cedar Rapids Washington | 2023 IA (Cedar Rapids-Washington, IA) Class of 2023. CB/ATH. 6', 165 lbs. Committed to Northern Illinois. Ran a 10.53 for second in 4A 100M dash finals
It looks like the Huskies of NIU got themselves a real-deal athlete, as Cedar Rapids product Thompson is coming off a second place finish in the 4A 100M dash with a burning hot 10.53. On tape, he can play all over the field and play a variety of positions effectively, and is long, quick, and slippery through contact. He's going to make an excellent CB in the MAC.
I got 2nd place at state I'm in lane 2 ran a 10.53!!! and a PR pic.twitter.com/RiqIUfs0bt

— Miles Thompson (@milesthompson01) May 23, 2022
Shamar Heard (Chippewa Valley, MI) Class of 2024. ATH. 5'9, 145 lbs. Holds five FBS offers. Recorded a 10.53 100 and 21.06 200 this spring
Won the D1 Michigan state title in the 100 and 200 with a 10.77 and 21.32, respectively. The 2024 athlete bested those numbers earlier in the track season, though, and his hard work has paid off on the gridiron as well. Western Michigan, Toledo, Central Michigan, Miami (OH), and Syracuse have all reached out already. He's got speed, burst, and acceleration, which all helps him make plays and big gains as a SB and kick returner. If he can keep hitting the weight room hard that list is only going to get bigger!
Jaylen Lloyd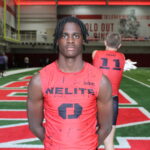 Jaylen Lloyd 5'10" | WR Omaha Westside | 2023 State NE (Omaha Central) Class of 2023. DB. 5'10, 160 lbs. Holds FCS, DII, and NAIA football offers. Won the Class A state 100M finals with a 10.54 and also clocked a 10.43 earlier this year
With some near elite speed in the 100, the Omaha product Lloyd has a strong athletic background that includes a 10.43 100M PR, a 21.32 200 M PR, a 9'5 broad jump, 50'3 triple jump. and 24'6 long jump that has helped him earn seven USATF All-American nods. He's earned offers from Northern Iowa, North Dakota, MSU-Mankato, and Benedictine College since May 11th, and I'd be surprised if more programs didn't throw their name in the mix after seeing his track times. On tape, I love how he high points the football up and over DBs. He's a contested catch beast, and his acceleration also stands out on his junior highlights. Lloyd also shows some ability to break tackles, his speed itself well to either side of the ball in college. More offers are coming!
Tim Bishop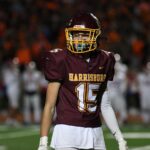 Tim Bishop 6'2" | DB Harrisburg | 2023 State  (Harrisburg, SD) Class of 2023. CB. 6'2, 175 lbs. Holds DII and NAIA offers. Clocked a 10.92. 10.76, and eventual 10.55 this spring in the 100M
A speedster out of the Dakotas, Bishop had an impressive run of improved 100M dash times this spring as he ran 10.92 for 1st in the Metro in late April, a 10.76 in the Dakota Relays semis on May 6th, and a scorching 10.55 for a new school record and 2nd in the Dakota Relays finals the next day. Since then, he's earned two DII offers from Bemidji State and Winona State, as well as an NAIA offer from powerhouse Northwestern College. However, that speed, as well as his length and size at CB, could shoot him into the D1 ranks of recruits, and on tape he does a little bit of everything as nicely-built cornerback. His long gait helps him to stay with WRs running downfield, and he can locate and play the ball well in the air thanks to his 37-inch vert and technique in man coverage. He also has quick feet and can break down well when covering a WR, and is physical and aggressive when tackling and playing the ball. His speed shows up in how easily he can stay in a receiver's pocket when going vertical, as well as when he sticks his foot in the ground and beats blocks on screens and plays around the perimeter of the LOS. Possible big-time sleeper out of a competitive and well-coached program at Harrisburg, They are coming off a state championship in 2021.
10.55 100m for 2nd in Dakota Relays and a new school record! pic.twitter.com/0MfKeeaJkH

— Tim Bishop (@Tim21b) May 7, 2022
AJ Jones (Creighton Prep, NE) Class of 2023. WR/CB. 5'8, 155 lbs. Zero offers. Ran a 10.66 and 10.56 in the 100M and a 22.14 in the 200M this spring
Sadly, the Papillion product is lacking in football film, but is lights out on the track and set his school's 100M record with a 10.56 on May 10th. The lack of film may be someone's gain though, as he could be a major sleeper of a playmaker out of the slot or as a CB, as 10.5 speed does not come by every day. His Twitter is @a_jones2023 for any college coach reading!
New Pr of 10.56, a Creighton Preparatory School record!! Now onto State! #Speedlab @SprintsCp @Coach_BurrellJr pic.twitter.com/SmFMDjX41q

— AJ Jones (@a_jones2023) May 11, 2022
Heston Miller Heston Miller 6'2" | WR West Plains | 2023 State MO (West Plains, MO) Class of 2023. WR. 6'2, 200 lbs. Holds six D1 offers. Placed 2nd in Missouri's Class 4 100M final with a 10.58
Miller totaled 1,200 AP yards and 16 TDs on 85 touches in 2021 and is placed second in a loaded Class 4 field of athletes in Missouri's 100M final. He also has a PR in the 200 of 21.82, and puts that speed to good use on the gridiron, where he's a well-built wideout with strong hands and a ton of deep threat ability. He's fearless when going over the middle, and can pluck the ball out of the air through contact and keep moving forward for extra yardage. I really can see that prolific speed when he's running deep downfield and easily out runs and stacks DB for wide open receptions and TDs. He also has a second gear as a runner that helps him burn defenders angles with no problems. Right now, he holds four FCS offers and two FBS opportunities from military academies, so if you're a fan of Missouri prep football he may be a name to want to keep an eye on as a potential stock riser. Great job this spring, Heston!
Jr Szn ended today, not a bad season for a 6'1 200 pound football player! Blessed and thankful for all coaches and teammates!
100- 10.58
200-21.9
4×1- 42.6
4×2-1:27 pic.twitter.com/gQAr8qUvko

— Heston Miller #23 (@HestonJM) May 29, 2022
Richlu Tudee (Champlin Park) Class of 2023. DB/KR. 5'8, 170 lbs. Zero football offers. Toasted the opposition to the tune of a 10.61 100M and 21.13 200M
The Champlin Park Rebel two-sport standout out of my home state of Minneapolis put on a show at the MN state track meet as he won the big school 100M title with a 10.61 and also won the 200M with a 21.13. He also helped the Rebels win the 4×100. His prowess on the track has resulted in T&F offers from Baylor, Arkansas, Florida A&M, and North Texas, and although his track opportunities are looking plentiful, he's still waiting on that first football opportunity. As a defensive back and kickoff returner, Tudee has the speed to carry any WR in the state deep and torch a kickoff coverage unit like a stray cigarette roach to a California forest. He also uses his hands well to break up passes and beat blocks on the perimeter, and he's physical and doesn't shy away from contact for his size. Going to be a big year on varsity for the rising senior.
A State Championship in the 100-Meter Dash for @richlu0808!

The @CPHSRebelPride star finishes with 10.61 time to take it!

We've got more over on https://t.co/jpyRJez2N5! pic.twitter.com/Ko3smw8Usc

— Minnesota Prep Spotlight (@MNPrepSpotlight) June 11, 2022
Griouard Weddington Griouard Weddington 5'9" | ATH Grandview | 2024 State MO (Grandview, MO) Class of 2024. RB/CB. 5'9, 150 lbs. Zero offers. Placed 3rd in Missouri's Class 4 100M final with a time of 10.63
Only has one game of highlights from his junior season in which he undercuts and picks off an errant pass versus Smithville. That 10.6 speed would be very useful at the CB position.
Chapman McKown Chapman McKown 5'8" | RB Norman North | 2023 State OK  (Norman North, OK) Class of 2023. RB/WR. 5'8, 160 lbs. Committed to Oklahoma (PWO). Ran a 10.65 100M on April 22nd
A hometown kid who couldn't pass up the opportunity to play for the Sooners, Mckown had a successful track and field season this past spring that culminated in a 10.65 in late April. Just to solidify that he could fly though, he also clocked multiple 10.86s, as well as a 10.77 and 10.70 this spring for his Norman North program. As a junior last fall, he rushed for 1,304 yards at a 7.9 YPC average and added 150+ receiving yards, not to mention how dangerous he was as a returner on special teams. Mckown runs like a jackrabbit, with quick, shifty feet, burst, balance, and speed at the top end that pursues cannot adjust to. His lateral agility, jump cuts, and moves in the open field are very fun to watch, and with a great junior tape, I think it's safe to say the Sooners got a steal of a PWO in the 2023 class. Boomer Sooner, baby!
10.65‼️🗣@NNFootball pic.twitter.com/a86MvIgHFd

— Chapman Mckown (@ChapmanMckown) April 23, 2022
Eli Brown (Tomah, WI) Class of 2024. ATH. 5'10, 160 lbs. Zero offers. Recorded a 10.68 100M time this spring
Ran a smoldering 10.68 before the Wisconsin state track and field meet that placed him as the #1 seed going into the preliminary races. As a sophomore RB, WR, and DB, Brown displays patience when waiting for his blocks to open up as a RB and when creating separation as a WR. He also has some dirty moves in the open field and can easily pull away from defenders, but to be honest you don't see that 10.6 speed shown on film, so I'm hoping that will change on his upcoming junior film. He's a high-ceiling 2024 to watch out of the Badger State!
Eddie Jones (Catholic Memorial, WI) 2024. ATH. 5'8, 160 lbs. Zero offers. Ran a 10.69 100M this spring
If you aren't familiar with Upper Midwest recruiting, I am here to tell you that Waukesha-area Catholic Memorial High School has one of the premier 2024 classes in the region, and they are only getting better. A potential gamechanger out of the slot, at RB, or out on the perimeter as a corner, Jones is also lacking in football film but brings special speed to the table that I think should be on the radar of college coaches and recruiters. To any potential readers that may fall under those categories and is interested in contacting the 2024 speedster, I'd start with his Twitter: @edj1806
Tony Phillips Tony Phillips 5'7" | RB Bishop McNamara | 2024 State IL (Kankakee, IL) Class of 2024. RB. 5'7, 170 lbs. Holds offers from the likes of Tennessee, Syracuse, Arkansas, FAU, and more. Clocked a 10.70 100M time this spring
The 2024 burner recently announced his transfer from small school Bishop McNamara to the larger and more competitive Kankakee High School and brings with him a distinguished resume on the track that includes multiple state championships and some lofty 100 and 200M times. He recently defended his 100M and 200M state title crowns and took home gold with a 10.70 and 22.05, respectively, and earned an exciting SEC football offer on June 2nd from the Arkansas Razorbacks. His sophomore highlights on the gridiron display a slippery and lightning fast & quick RB with excellent burst, elusiveness, and straight line speed. He's lightning in a bottle and fun to watch at 5'7, 170 pounds, and the change in scenery and upgrade in competition is only going to make him better.
Defended my title in the 100m 10.70 state champ again!💫@AllenTrieu @MileSplitIL @coolc815 @SpurrierCoach @EDGYTIM @michaelsobrien pic.twitter.com/NuyBqGSXfa

— Tony Phillips Jr (@Tonyfrmk3) May 29, 2022
Christopher Nelson (Herrin) Class of 2025. ATH. 6', 165 lbs. No offers. Sprinted for a 10.70 100M dash time to win the Illinois AA title as freshman
I am pumped to say that we have a FRESHMAN on the list of verified two-sport track speeders around the Midwest. Nelson only has a game of Hudl film as a freshman, but he's solid against the run and is showing himself to be interested in playing football both in high school and possibly the next level. I couldn't find any information, but I'm sure Herrin's coaches would be more than happy to give him some love on the recruiting trail if a college coach were to ask. I'll be eagerly awaiting more film from him this season.
Alex Mota Alex Mota 6'2" | DB Marion | 2023 State IA (Marion, IA) Class of 2023. WR. 6'1, 175 lbs. Committed to Iowa. Timed in at 10.71 for a 1st place finish in Iowa's 3A 100M final
It's a little assumed, but when looking at highlight tapes of speedsters like these I don't expect them to open their film with a thunderous truck stick. This is what you get for betting against Iowa commits though, and Mota is a good one. At 175 lbs., Mota is a fluid and physical athlete who can generate a ton of force in his hits thanks to that 10.71 speed. He lined up all over the field in 2021 and was a playmaker at whatever position he was put at, and his play strength at 175 lbs. is impressive and shows up whether he's breaking a tackle, defeating a block, or laying a hit. Around a minute into his tape you also see that speed show up after he ran down a loose WR in easy fashion. I also love watching lay the wood. Hawkeyes got another instate stud!
3A 100m champ📍10.71🦵🏾 pic.twitter.com/M3L0pKnjQA

— Mota (@_AlexMota23) May 22, 2022
Damontre Patterson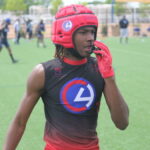 Damontre Patterson 5'10" | DB Ada | 2024 State OK (Ada, OK) Class of 2024. DB. 5'9, 155 lbs. Holds an offer from Marshall. Placed second in Oklahoma's Class 5A 100M final with a 10.73
A well-regarded prospect from our scouts at PRzOK, Patterson had a good showing in the OK state track meet and finished second in 5A with a 10.73 final run. He's dangerous with the ball in his hands as a returner and is able to cross the field with ease to shake pursuing defenders and take it to the house. His timing and balance in his cuts sends opponents flying and grabbing for their ankles, and he's able to get a routine screen and turn it into a TD run involving half the field and six or seven missed tackles. As a DB I like his smooth back pedal and loose hips, and he looks big on tape for 5'9, 155. Marshall was smart in offering this kid early!
@seancooper_C4 @bradodom pic.twitter.com/VJFis63mCy

— DaMontre "DP7" Patterson (@DaMontrep7) May 14, 2022
Winston Moore (MICDS, MO) Class of 2023. WR/RB. 5'11, 180 lbs. Holds FCS and FBS offers. Placed 5th in Missouri's Class 4 100M final with a time of 10.73
Moore holds offers from the likes of NDSU, Lindenwood, Wyoming, Brown, Fordham, Butler, Ball State, Colgate, Northern Illinois, Navy, Air Force, Army, Colorado State, UNI, SEMO, Western Illinois, Illinois State, Eastern Michigan, and Southern Illinois. He totaled 755 receiving yards, 713 rushing yards, and 18 TDs in his junior campaign on the gridiron and also had a successful track season in '22 that resulted in a  fifth place finish in the Class 4 100M final with a 10.73. On tape, the offensive weapon really shows off his speed when tracking and getting under the football when it's in the air. You can see him crank his legs into high gear, which results in him leaving DBs in the dust, and he's also got a ton of juice out of the backfield as a RB. He takes off and flies to the perimeter and by pursuing defenders like he's shot out of a cannon, and after seeing the tape combined with the verified times it's no wonder he's got a laundry list of offers from FBS and FCS suitors.
Excited to set my new PR of 10.79 in the 100 meter dash and to head to State‼️ pic.twitter.com/MA8lwRYXHa

— Winston Moore (@Winstonmoore02) May 24, 2022
Brevin Doll Brevin Doll 6'0" | RB ADM | 2024 State IA  (Adel-Desoto-Minburn, IA) Class of 2024. RB/ATH. 6', 185 lbs. Holds an offer from Army West Point. Recorded a 10.74 100M and 21.89 200M time at the end of May
The small town Iowa product had himself a heckuva day at the Iowa state track meet, as he became a back-to-back state champion after tying the state meet record in his class with a 10.74 100M and following it up with a 21.89 200M time for another impressive showing. He also ran a 10.88 earlier in May on the 12th. His track exploits definitely got him on some more college recruiting boards, as he recently earned an invite from Nebraska's DPP for their upcoming prospect camp. On the gridiron, his sophomore tape shows off that speed, as he races by defenders with his long legs and pulls away in the open field without much visible effort. His strong lower body also helps him run through and over weaker tackle attempts, and he brings a balanced and dynamic skillset to the field as a RB. He's got P5 potential and upside and I think schools will see that as he gets deeper into the camp circuit. He's got Iowa and Nebraska in the coming days. Good luck, Brevin!
Great way to end my sophomore track season:

100m – 10.74 (tied state meet record)🥈

200m – 21.89 (back to back state champion)🥇🥇 pic.twitter.com/bshcWceqdk

— Brevin Doll (@BrevinDoll) May 23, 2022
Jaylin Townsend (Beecher, MI) Class of 2023. WR/DB. 6'1, 160 lbs. Holds three DII offers. Set a PR in the 100 at 10.75 this spring
Townsend was recently named to my All-Upper Midwest C/o 2023 Offensive and Defensive Dream Teams thanks to that impressive 10.75 100M time and his accolades on the football field that has resulted in powerhouse GLIAC offers from Ferris State and Grand Valley State, as well as a Notre Dame College offer. He's also received heavy interest from Central Michigan, and with some strong senior tape I think he can thrust himself into the MAC echelon of recruit. His junior film shows off that 10.75 speed, especially in his burst, where he explodes forward when he wants to hit that extra gear to outpace defenders. On simple jet sweeps or hitches, he's able to break tackles and turn routine gains into splash plays, and I also like his physicality as a ball carrier at around 160 pounds. I'm very interested to see how he's improved his game going into this fall.
New pr✅(10.75) pic.twitter.com/A5djnq55hj

— Jaylin Townsend (@Jay23Trip) May 20, 2022
Nelson Wright Nelson Wright 5'9" | RB Sioux Falls Roosevelt | 2023 State  (Sioux Falls-Jefferson, SD) Class of 2023. RB. 5'9, 200 lbs. Zero offers. Flew for a 10.76 100M dash in April
A Sioux Falls product who has been well known and well regarded on the track for years now, Wright transferred across town from Roosevelt to Jefferson and teams up with some other stud Dakota prospects for the 2022 season. He raced to his PR of 10.76 on April 25th of this past spring in Norfolk, Nebraska, and in the past he has also timed in at multiple 10.8s to go along with some solid weight room numbers. As a junior with Roosevelt, Wright's film could use some editing, as his best plays are far into the tape, but from watching a bit of it you can see he brings a balanced combination of speed and physicality to the gridiron at 5'9, 200 pounds. He's visited multiple DII and FCS schools around South Dakota and is still waiting for that coveted first scholarship offer.
1st place in 100m dash, time of 10.76 new PR this season.
Ran it in Norfolk NE. pic.twitter.com/G8gnY16Neg

— Nelson Wright (@Nelsonwright41) April 25, 2022
Nate Jones (Broken Arrow, OK) Class of 2023. RB. Popped off a 10.8 for third in Oklahoma's 6A 100M final
I couldn't find a twitter for Mr. Jones, so I'm not sure where he stands as far as his football recruiting goes, but the rising senior posted an impressive 10.8-flat in the Oklahoma 6A 100 final this spring for a top-3 finish as a junior. As a tailback, Jones is elusive, shifty, and slippery at making people miss, and he's got some great great reps of pass pro out of the backfield that you don't see too often. He's a scholarship back no doubt, and around 1:10 into his tape he's got a rep where he runs down a defender after an interception that I also fell in love with. Someone is going to get a baller with the Broken Arrow 2023er.
Bryer Prochniak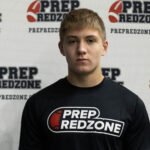 Bryer Prochniak 5'11" | RB North Union | 2023 IA  (North Union, IA) Class of 2023. RB/SB/KR/PR. 5'11, 185 lbs. Holds one DII offer. Ran a 10.84 100M PR time in late April
Although the state track meet didn't finish like he wanted, North Union's Prochniak ran a nice 10.84 in late April and earned his first college offer just yesterday from Wayne State in Nebraska. The PrepRedzone Showcase standout and veteran posted 158 carries for 1,284 yards as well as 27 catches for 318 yards and 19 total TDs last season and will surely best his numbers as a senior this fall. On tape, he's excellent and exciting at setting up defenders in the open field, and he's ruthless and quick with his jukes and cuts and will leave kids spinning their heads trying to find him as he races to the endzone. He also shows off that 10.8 speed on film, and can pull away further and further from pursuing defenders without any noticeable exertion of energy. I liked watching his tape and his list of offers should be a lot longer and more diverse by the time his prep career wraps up. Keep it up, Bryer!
10.84 in the 100m dash new PR! (Laser timed) pic.twitter.com/UxO0kEYWLn

— Bryer Prochniak (@ProchniakBryer) April 29, 2022
Jonathan Shrum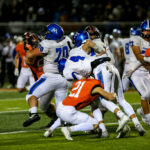 Jonathan Shrum 5'11" | DB Farmington | 2023 State MN n (Farmington, MN) Class of 2023. WR/DB. 5'11, 180 lbs. Holds two DII offers. Tallied a 10.86 in the conference finals in late May
The Farmington Tigers strength and conditioning program is as legit as any in Minnesota, so it's no surprise they pumped out a two-sport standout like Jon "Smalls" Shrum. The aggressive DB posted 113 tackles, 10 TFLs, 3 sacks, and 3 INTs for some enormous production in 2021, and he's also posted some impressive weight room numbers for his size like a 245 lb. bench, 411 squat, and 260 clean. The film displays a safety who can break and plays on the ball impressively, and he also utilized that speed on offense and special teams when the ball was in his hand, and on defense as a blitzer off the edge. He can do it all, and do it all with speed. "Smalls" is poised for a big fall.
10.86 100 in the conference finals with a good comeback at the end pic.twitter.com/W7czJgTUlq

— Jonathan Shrum (Smalls) (@j_shrum30) May 27, 2022
Grayson Spronk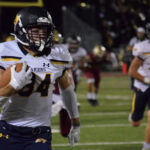 Grayson Spronk 6'1" | RB Prior Lake | 2023 State MN  (Prior Lake, MN) Class of 2023. RB. 6'1, 195 lbs. Holds offers from Air Force and Army. Sprinted a 10.72 100M this spring
A Minnesotan who has raised his stock considerably thanks to his performance on the track, Prior Lake's Spronk is going to be running behind a P5-filled offensive line in 2022 but brings some D1 FBS talent to the table himself as his nice junior film has become even more highly regarded now that he has verified track times to back up his case. His great 100M dash times of 10.92, 10.9, 10.89, 10.87, and eventual 10.72 (with wind) resulted in him earning military academy FBS opportunities and more room for offers now that programs can match his speed to his junior film. Spronk also holds the Lakers school record in the clean with 340 pounds (!), and at 195 lbs. he is explosive out of the backfield and strong at the point of contact. He can get you tough yards between the tackles or beat DBs out on the edge for big gains. Can't wait to see how his senior film is looking soon.
Great day at conference finals yesterday. 10.90 100M, 22.22 200M, and a school record 42.90 4×100 Relay! pic.twitter.com/6Wf3vC8Yuy

— Grayson Spronk (@GraysonSpronk) May 27, 2022
Jackson Overton Jackson Overton 5'7" | ATH St Dominic | 2023 MO  (O'Fallon, MO) Class of 2023. RB. 5'7, 155 lbs. Holds three Pioneer League FCS roster spots and three NAIA offers. Ran a  10.95 100M this spring
To finish out this list of speedsters we have Missouri product  Jackson Overton Jackson Overton 5'7" | ATH St Dominic | 2023 MO . A distinguished prep on the gridiron, Overton has been named All-State twice, St. Louis All-Metro, and All-Conference thrice going into his final year of high school ball. He can run, block, and catch from the RB position, and in his 13-game 2021 campaign he posted 178 carries for 1,231 yards and 29 total TDs, along with 27 receptions for 411 yards. Overton can break tackles in many different ways, and although his track times are a little lower on this list, he definitely possesses football speed that can break a game wide open. I love his game as a scat back.
10.95 in the 100 in a very competitive AAA conference meet! Lane 5. @SDAll_In @sdhsxc @NateLatsch @GSV_STL @JPRockMO pic.twitter.com/RLVbKxfxdw

— Jackson Overton (@Jackson6Overton) April 28, 2022