This is always one of my favorite pieces to write. It can be tricky evaluating prospects based on primarily non-varsity film, but the upside of identifying as young as possible can have great rewards in the recruiting game, and a lot of the time dominance against freshman/soph/JV opponents translates to the varsity level, so it's worth the risk of evaluating recruits before they've properly grown and developed. Aiden Horel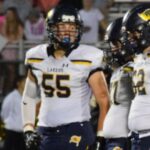 Aiden Horel 6'4" | OL Prior Lake | 2024 State MN is a good example of a recent kid fellow PRzMN scout Nate Wahl identified as only a freshman in 2020, when he looked Godzilla-like against freshman competition and followed it up by starting at RT for the Lakers going against heavyweight 6A competition. For as many kids as you can predict are going to be standouts, there are more that you don't see coming, but it's still a fun exercise to try and find some of the next stars on the MN prep varsity scene. Below, I've identified 17 2024 JV Players set to Break in '22, some of whom I've already written about, and some of whom I'm excited to officially introduce. Thanks for reading!
JV 2024s Set to Breakout 
Roman Johnson Roman Johnson RB Minnetonka | 2023 MN  (Minnetonka) RB. 6', 185 lbs. @RomanCJohnson
I wanted to open things up with a bang and start with one of the players I am most excited about. Meet: Minnetonka's RB  Roman Johnson Roman Johnson RB Minnetonka | 2023 MN , who was a prolific JV ball carrier in 2021 who posted 1,227 rushing yards and 20 TDs as a sophomore. He showed the wheels to easily blow by non-varsity opponents on jet sweeps and kick returns and some impressive contact balance that allowed him to break and run through multiple tackle attempts on a single carry. He's also physical and has no problem throwing a truck stick or stiff arm and can even catch the rock out of the backfield. His balanced skill set and tackling-breaking ability lead me to believe the transition to varsity will be easier for him than most. I'm pumped to see it!
Jalen Smith Jalen Smith 6'1" | WR Mankato West | 2024 State MN  (Mankato West) WR. 6'1, 175 lbs. @jalen3smith
Smith is another offensive weapon that I'm especially excited to see on the varsity gridirons in 2022. He may be set to take Southern MN by storm, as he showed that his speed can be used to burn DBs deep as well as torch them after the catch on something as simple as a five-yard slant. He also can reel in catches through contact, which he did at the varsity level in some of his limited reps on varsity last season. He also will get up and high point the football when given the opportunity. There's a lot going for him and coming out of a heavyweight 5A Mankato West program he'll be coached up and used to quality competition.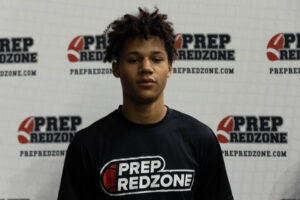 Smith
Timmy Ball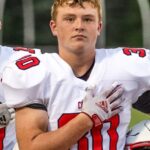 Timmy Ball 6'1" | LB Centennial | 2024 State MN  (Centennial) LB. 6'1, 215 lbs. @TimmyBall7
The Centennial Cougars have one of the best LB rooms in the entire state in 2022 and have a couple of good-lookin '24s, including 6'1, 215-pounder Timmy Ball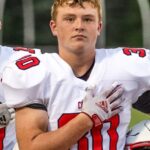 Timmy Ball 6'1" | LB Centennial | 2024 State MN . Ball did get varsity reps last season and had a good performance against Minnetonka that included a TFL and some tackles. He'll be stepping into a much bigger role on varsity this fall and will effectively use his ability to read his keys and beat lineman to the hole to disrupt opponents' run game. He also is a strong tackler with good weight behind him, which will help him against varsity ball carriers, and Ball has a good motor and some reps in coverage from last fall as well. With a lot of guidance, competition, and experience with his Cougars LB brothers there is going to be a lot of production and leadership coming out of that position group.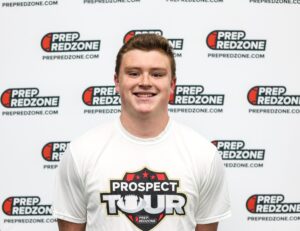 Ball
Alex Jansen Alex Jansen 6'1" | LB Saint Thomas Academy | 2024 State MN  (St. Thomas Academy) LB. 6'1, 220 lbs. @alexjansen24
STA is always a hotbed for offensive skill positions and LBs, and 2024 ILB Jansen is already built for varsity action at a thick 6'1, 220 and did see varsity reps last fall on an aggressive Cadets defense. I love how he triggers on the football and flies into the backfield when he identifies run and can beat blocks with speed between the tackles, and he also made a couple of solid tackles on kickoff coverage. On JV, that same ability to identify run or pass helped him snag an INT in coverage and break up a screen attempt. He'll be stout against the run next fall under Friday night lights in Mendota Heights.
Obe Eyafe Obe Eyafe 6'2" | DB Andover | 2024 State MN  (Andover) DB. 6'2, 190 lbs. @OEyafe
One of the harder hitters I watched while watching the hundreds of highlight tapes for this 2024 update, Eyafe is long and explodes through contact like a missile against both varsity and JV competition alike. It doesn't matter the situation either, as he laid some big hits while enforcing the run, coming up and making a receiver pay for catching the rock, and even on kickoff, where he's got a rep where he runs down the returner like a jaguar hunting a gazelle. He can tackle in space and get every ounce of violence out of every hit and has great range in pursuit as well. The dude can run at 6'2, 190, and is a fun one to watch! Peep the tape: Sophomore Year
Milos Spasojevic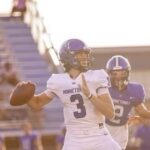 Milos Spasojevic 6'4" | QB Minnetonka | 2024 State MN (Minnetonka) QB. 6'4, 210 lbs. @Milosspas10
One of three particularly intriguing 2024 QB prospects from our Great State of Minnesota, the Minnetonka signal-caller is entering his first season as the full-time starter for the Skippers after getting quality varsity action as a sophomore and putting some impressive reps on tape. He's a big, live arm that can zip the ball into tighter windows and complete more difficult routes with accuracy and sometimes through contact off his back foot or on the run. I also really like how he escapes pressure in the pocket and generally uses his legs to make plays, and he's mobile and athletic at 6'4 and ~ 210 pounds. It's going to be a big year for Spasojevic and the Skippers. 
Lucas Caron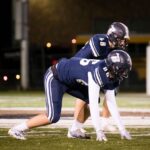 Lucas Caron 6'5" | DL Bemidji | 2024 State MN  (Bemidji) DE. 6'5, 225 lbs. @Ljamescaron5
Another athlete that saw a lot of varsity action last fall as a sophomore, Bemidji's Caron is a beast and possesses a great frame at 6'5, 225 lbs. going into his upperclassman campaign for the Lumberjacks. He posted 22 tackles, 4 sacks, and a FF last fall and his sophomore tape opens with him flinging ball carriers around like rag dolls. For a long, young prospect he's got some lateral agility and acceleration as well. If he can improve on his strength he's going to be a monster up north these next two seasons.
Riddik Collier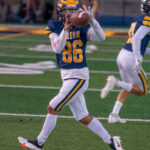 Riddik Collier 5'9" | ATH Rosemount | 2024 State MN  (Rosemount) WR. 5'8, 140 lbs. @RiddikCollier
A quick, fluid wideout who lined up as the X and the Z last fall, Collier is dangerous after the catch and doesn't mind going over the middle and making the most out of a slant or simple stop route. Good speed, just needs to add weight, and also got reps at CB.
Langden College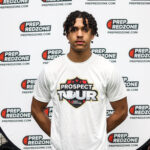 Langden College 6'4" | LB Armstrong | 2024 State MN  (Armstrong) DE. 6'4, 210 lbs. @lCollege5
Older brother Kayden is a 2022 Armstrong grad who signed to the South Dakota Coyotes as a PWO wide receiver. Younger brother Langden shares his brother's long, enticing frame and used it at the DE spot last fall in primarily non-varsity action for the Falcons. He did see varsity action though, and no matter the level he was playing College was a strong tackler – which helped him on kickoff coverage at 6'4, 200+ – and he's got solid quickness that he used to beat blocks against slower OTs. I'm excited to see how his offseason has gone.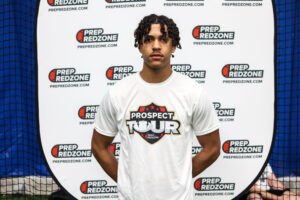 College
Cole Heilbrun (Wayzata) QB. 6'2, 205 lbs. @HeilbrunCole
The Trojans QB competition is open after '22 signal-caller Ryan Harvey is onto the MIAC and Augsburg University and one of the hopeful starters is 6'2, 205 lb. Cole Heilbrun. A thick righty who is productive when rolling out, Heilbrun also shows some solid accuracy on throws to the first and second level of the field and can slip the ball through tight coverage to make it an easy reception for the WR. He's the early frontrunner in the Wayzata QB race, according to their Hudl
Tenzing Sonam Tenzing Sonam 6'2" | OL Blaine | 2024 State MN (Blaine) OG. 6'2, 230 lbs. @TenzingSonam50
I was a big fan of Tenzing's film and was pumped to give him a "hard hitter" note when watching tape for the 2024 PRzMN Rankings Update. The Blaine Bengals OG has some explosive and natural pop at the point of attack both as a run blocker and in pass pro. He also played some OT and can block out in space on screens, has heavy hands, and good leg drive after he engages a defender. I can't wait to see him lay the wood at the varsity level, he's a fun one to watch.
Jide Abasiri Jide Abasiri 6'6" | DL Prior Lake | 2024 State MN (Prior Lake) DE. 6'6, 255 lbs. @jide_abasiri
I've written about Abasiri a lot the past week so I'll keep it short, but he's got eye-popping size and athletic gifts that can overwhelm opponents and although he's still raw, he's also a wrestler and doesn't mind playing physically and enforcing the run. His sophomore tape is limited so it's going to be a big "prove it" year for the potential Prior Lake game changer.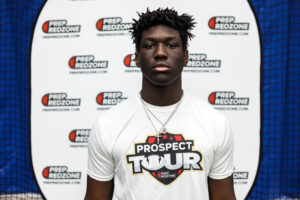 Abasiri
Joran Thomsen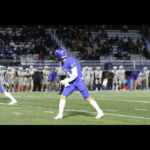 Joran Thomsen 6'2" | WR Minnetonka | 2024 State MN (Minnetonka) WR. 6'2, 190 lbs. @JoranThomsen
Minnetonka's Thomsen has the size to compete and produce at the varsity level and posted a good stat line in 2021 that included 537 receiving yards and 12 TDs. He's a deep threat, with long strides and the ability to get under and track the football well on over and underthrows alike. He's got strong hands and makes burning JV corners look like a walk in the park. Now let's see how he fares against varsity CBs! It looks like he's got the tools to give them fits.
Josh Quirk Josh Quirk 6'1" | TE Edina | 2024 State MN  (Edina) TE. 6'1, 235 lbs. @joshquirk_
Another prospect who I marked as a hard hitter while watching tape for the 2024 MN Rankings Update, Edina Hornet TE and occasionally OG Quirk laid a huge hit on a kick return against Prior Lake, sent a kid flying on a swipe back block as an HB against Farmington, and was a menace as a run blocker with a knack and will to finish blocks. He's athletic for his size, and although his future may lie in the interior of the offensive line he's got the skill set to be dominant and punishing against Metro defenders.
Ethan Sims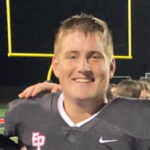 Ethan Sims 6'7" | OL Eden Prairie | 2024 MN  (Eden Prairie) OT. 6'6, 285 lbs. @ethansims9988
I've written about Sims a lot the past week so I'll keep it short, but coming from a powerhouse program like Eden Prairie with eye-catching size college programs love as an OT and good sophomore film he has the potential to be a big-time prospect if he keeps growing and developing and building on his dominance as a run blocker and adding to his game in pass pro.
Tait Anderberg Tait Anderberg 6'6" | OL Lakeville North | 2024 State MN  (Lakeville North) OT. 6'7, 300 lbs.
Check out my recent Stock Riser feature for a more detailed eval of the next monster OT out of Lakeville North, but if he can bend, finish blocks, and move people around on varsity like he did last year on JV, he'll see a steady stream of coaches come to North trying to get a look at the Panthers' mauler.
Marcus Lomanga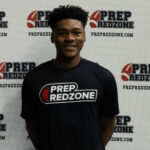 Marcus Lomanga 6'3" | ATH Bloomington Jefferson | 2024 State MN  (Bloomington Jefferson) ATH. 6'3, 200 lbs.
 Dynamic, athletic, and enticing 6'3, 200 pounder that played CB, WR, and a few other positions for the Jags last fall. Looked great in person at our PRzMN Showcase as well. He'll smack ya too. I've written about Lomanga more in depth in my last piece discussing the update's top stock risers so check that out for a more detailed evaluation on the potential superstar.