Now that the official 2025 PrepRedzoneMN Rankings Update and the ensuing content last week has wrapped up we are moving into the rising upperclassmen in the Great State of Minnesota and the always-pertinent (in terms of recruiting) junior class of prospects and players. The MN 2024s are already making a splash in the national recruiting scene, with four recruits already holding FBS offers and an overall physically large and positionally diverse crop of standouts with particular strength in the OL, LB, DL, QB, and DB groups represented in the Top-50. I have some exciting articles planned after this Top Newcomer feature, and if you like reading the rankings-related content make sure you read my free feature explaining the process behind the rankings and the "How" and "Why" to the curation of these rankings their updates year after year. I always want to be transparent and honest with our readers and I cannot begin to describe how much I appreciate all of our subscribers' support, input, and readership. You guys are the best. Now, let's check out some of the Top Newcomers to the newest Minnesota c/o 2024 Rankings Update, and welcome to the Top-15, Top-25, Top-50, and Top-100 new additions from us at PRzMN. Happy Friday!
Class of 2024 Top Newcomers 
#15:  Zach Bentler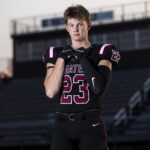 Zach Bentler 6'4" | DL Two Harbors | 2024 State MN  (Two Harbors) DE/TE. 6'4, 215 lbs. @BentlerZach
Quietly, the Two Harbors Agates have put out some tough and dynamic prospects such as All-State LB Zach Churness, scholarship safety Eli Schlangen, and now-Air Force Academy Cadet Karsen Holm. Despite that trio's production, there is now an Agate with far more potential on the gridiron in-house, and his name is  Zach Bentler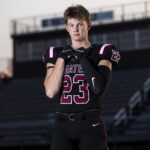 Zach Bentler 6'4" | DL Two Harbors | 2024 State MN . In 2021, the 6'4, 215 lber. posted 39 tackles, 16 TFLs, 1.5 sacks, and 2 FFs, and did so violently and explosively. He's one of the hardest hitters in the state for 2024 and maybe even 2023, and destroyed more than his fair share of QBs and RBs last fall to make for some physical and fun-to-watch sophomore highlights where the bodies are very much hitting the floor. He's the biggest kid on the field as a sophomore and can close space, easily shed blocks, and tackle with authority as an EDGE defender for Two Harbors. He's a big kid who moves well for his size and is athletic enough to contribute in the passing game as a TE as well. A big junior season on tape can really help his stock, as I get the feeling he won't be camping very much this summer as a rising junior. Lake Superior bred, baby.
#16:  Emerson Mandell Emerson Mandell 6'4" | OL Irondale | 2024 State MN  (Irondale) OL. 6'4, 290 lbs. @_mandell
There are more than a few D1-caliber offensive lineman already making themselves known across the state as rising juniors, and one of the best of the bunch comes out of the Irondale Knights and their OT  Emerson Mandell Emerson Mandell 6'4" | OL Irondale | 2024 State MN . Irondale has put out a number of impressive lineman on both sides of the ball over the years, and Mandell has the makings to be one of the better one as the 6'4, 290 lber. can get downfield and block in space like a much smaller lineman, whether he's engaged to a DL or not – and send opponents flying upon full extension of his arms. His first step is very explosive and he flies out of his stance, and is punishing as a down-blocker and overall at the point of attack. The New Brighton product is obviously very strong and mobile and should see big offers come sooner rather than later if he continues to develop and improve on his game. Would love to see him in more pass pro situations as well!
#36: Noah Behning Noah Behning 6'3" | LB Lester Prairie | 2024 State MN (Lester Prairie) LB. 6'2, 220 lbs. @NoahBehning
I'm a big big fan of prospects who are younger brothers of former standouts at the high school level, and Lester Prairie's  Noah Behning Noah Behning 6'3" | LB Lester Prairie | 2024 State MN  shares the eye-popping size of his older brother Jack – who is set to play college football for Minnesota-Morris of the UMAC. With optimal size for a high school LB, Noah thick and powerfully built and shows no reservations in laying the boom on his sophomore tape. On his second and third reps on film he made some impressive tackles right in the hole of the goal line going 1-on-1 with the RB, and showed some active hands when beating blocks of OL. He also laid some menacing hits on QBs last fall, and was also fast and smooth at executing twists as a blitzing LB. I can't wait to see how he's built on his game now that he's an upperclassman.
#40: Wyatt Osterbauer Wyatt Osterbauer 6'4" | DL Buffalo | 2024 State MN (Buffalo) DE. 6'4, 225 lbs. @WOsterbauer
A player I was far too late in adding to the rankings, Buffalo Bison DE  Wyatt Osterbauer Wyatt Osterbauer 6'4" | DL Buffalo | 2024 State MN  has a long, lean frame that is quite intriguing for a rising junior and got a ton of varsity action last fall. I am a big fan of the second play of his sophomore film, where he backs down an opposing OT ten yards into the backfield and into the QB's lap for a sack. He uses his hands to get off blocks when an OT gets his body out of position, and can get in the backfield in a hurry to disrupt the run game. He should be able to easily build on his 2021 production this coming fall and is putting some good things on film as a young buck.
#42: Justin Jacobson Justin Jacobson 6'2" | OL Pelican Rapids | 2024 State MN (Pelican Rapids) OL/DL. 6'2, 240 lbs.
I got family in Detroit Lakes, so I was psyched when Senior Contributor Nate Wahl liked what he saw enough to give a s/o on Twitter to Pelican Rapids mauler  Justin Jacobson Justin Jacobson 6'2" | OL Pelican Rapids | 2024 State MN . This was my first time hearing the name of the rising junior Viking, and his film matches the dominance he showed at NDSU's recent prospect camp, as the OL/DL standout does great work on both sides of the ball and although Nate shouted him out for his OL efforts, I am a big fan of his DL tape. He's noticeably strong at the point of attack and finishes his hits with authority, and his motor and effort are both solid for a kid of his size. He's a fast 230-240 pounds, and is an efficient puller from his OG spot as well as pass rusher from the DL. He's got the makings of an outstate beast from what I can tell.
#43: Logan Schleeter Logan Schleeter 6'2" | DL Orono | 2024 State MN (Orono) DL. 6'2, 225 lbs.
With solid size as a sophomore defensive lineman playing in the Metro, Schleeter manned both the 3T and 5T spots and is patient with a strong initial punch when engaging OGs and OTs. If you give him an untouched gap he can also fly into the backfield and finish a play when given the opportunity, and he looks efficient at getting off 1-on-1 blocks against strong interior lineman in 5A competition, especially against the run. He also looks sick rocking #57 along the DL.
#49: Jide Abasiri Jide Abasiri 6'6" | DL Prior Lake | 2024 State MN (Prior Lake) DE. 6'6, 255 lbs. @jide_abasiri
When you see 6'6, 255 pounds and also know that Abasiri wrestles for a 6A powerhouse, it's hard not to think about the potential and the high ceiling coming out of the Lakers DE. However, Abasiri is limited in sophomore film (only two games of highlights), but does show the ability to completely overpower opponents with his sheer size and physical skill set. His length is outstanding, and he swallows up ball carriers when he gets ahold of them. He's also by far the biggest player on film, but with such a limited pool of reps against non-varsity competition you can't rank a kid solely based on potential. However, Abasiri is going to be featured very soon on a PRZ 2024 piece naming the prospects with the highest potential in the class. Stay tuned!
#51: Austin Koep Austin Koep 6'2" | WR Northfield | 2024 State MN (Northfield) WR. 6'2, 200 lbs. @austinkoep5
There will always be a special place in my heart for the Northfield Raiders, the team I spent many Friday nights watching while attending St. Olaf College. The Southern MN 4A program have themselves a nice looking, well-built wideout in 6'2, 200 pounder  Austin Koep Austin Koep 6'2" | WR Northfield | 2024 State MN , who uses that size to his advantage after the catch when breaking tackles. He's also strong at the catch point and can reel in the ball through tight coverage and contested situations, as well as lay out and put his body on the line to reel in highlight-worthy catches. I really like him as an X receiver both in high school and at the next level.
#60: Gage Schmidt Gage Schmidt 6'4" | OL Mankato West | 2024 State MN (Mankato West) OL. 6'4, 250 lbs. @GageSchmidt18
A three-sport standout for the Scarlett who plays football, hockey, and lacrosse, Schmidt started at OT on varsity as a sophomore and does a great job of working to get his hands inside on his opponent and thrusting to finish after initial contact. It looks tough for opposing DL to disengage from Schmidt once he's locked in, and he can easily wash down weaker defensive lineman to open up holes for his RBs. With good size, room to fill in, and a knack for finishing I think the Mankato West OT is just beginning to scratch the surface.