Let's keep rollin' with the 2024 rankings content! After an update to a graduating class, we at PrepRedzoneMN like to get things going with the always-important Top Newcomers and Stock-Risers feature, and after Friday's PRzMN piece highlighting the best new additions to MN's rising junior rankings, I'm here to shed some light on the players who have upped their recruiting stock and saw their names rise in the latest 2024 rankings update. Just in case anyone is curious after the 2024 content is finished, I plan to update the 2023 rankings next, write about the update, and then move on to my time of year: Preseason All-State. For now, though, get to know the 2024 Rankings Update's Top Stock-Risers. Hope you enjoy!
Additionally, if you have anything questions or potential concerns about the rankings process, feel free to check out my recent article detailing the "How" and "Why" behind the scenes of how these rankings and their updates come to be.
Behind the Scenes: The How and Why of the MN Rankings Updates
MN's c/o 2024 Top Stock-Risers 
Hayden Venenga Hayden Venenga 6'6" | OL Willmar | 2024 State MN  (Willmar) OL. 6'5, 245 lbs. Rose his stock from #68 to #17
The long, lean OT and DE from 2ish hours west of Minneapolis is a part of a loaded batch of 2024 offensive lineman from the Land of 10,000 Lakes with a high ceiling and some promising sophomore tape and is bound for inside the Top-10 if he can add some more muscle to his already good-lookin frame. That's not to say he's weak though, as his long arms and chest show the necessary strength to finish DL into the turf after some hand readjustment and a full extension of his arms. He also displays some capability as a puller and in pass protection. There's some noticeable mobility and athletic characteristics in that aforementioned intriguing frame, so I'm very excited to see how his offseason will pay off once the lights come on in 9-10 Fridays.
Marcus Lomanga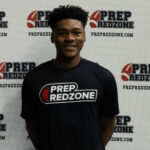 Marcus Lomanga 6'3" | ATH Bloomington Jefferson | 2024 State MN  (Bloomington Jefferson) ATH. 6'3, 200 lbs. Rose his stock from #53 to #27
Where to start with Lomanga. To begin, it's worth mentioning that he tore it up at a PRzMN Showcase in front of my very eyes and looked like one of the most dynamic and natural players in attendance. That was as a freshman. Since then, he's only gotten bigger, and recently took an unofficial visit to the Gophers and got to rock the Maroon and Gold jerseys that will hopefully be a part of his future sooner rather than later. With compelling athletic measurables, Lomanga played DB and WR in 2021 and I took the time to watch both of those highlights from last fall with the Jefferson Jaguars! As a wideout, he posted 21 receptions for 320 yards and 10 TDs in non-varsity competition and put a variety of good things on tape that included burning CBs deep, winning contested catches in the endzone and in the middle of the field on slants, dropping his hips and cutting off his routes for possession wins, and using his size and athleticism to dominate after the catch. As a DB, he got varsity reps as a corner but still played primarily JV, and I liked his quick feet in his backpedal and his ability to cut off his routes translates to him breaking on footballs on defense. He'll also lay the boom as a tackler and dominate at the LOS when he presses. There's a ton to like but he needs to do it at the varsity level now. Go Jags!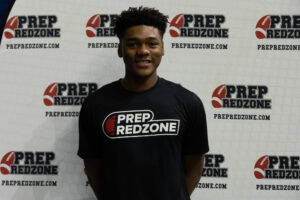 Isaac Davis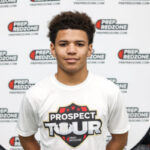 Isaac Davis 5'11" | DB Park Center | 2024 State MN  (Park Center) DB. 5'11, 180 lbs. Rose his stock from #49 to #39
Park Center has produced some absolute studs at the DB position and they got a physical stock riser in safety Isaac Davis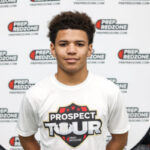 Isaac Davis 5'11" | DB Park Center | 2024 State MN . This kid can run the alley and stop a ball carrier right in his tracks and can pursue sideline-to-sideline as well as come up and stick a RB in the open field when he breaks the first couple levels of defense. He doesn't waste steps, has good speed from the defensive backfield when triggering on the ball, and is a great form tackler. At around a buck eighty he puts the strong in strong safety and I love watching him support the run. If he can keep adding size and developing his game he won't be done seeing his stock rise either.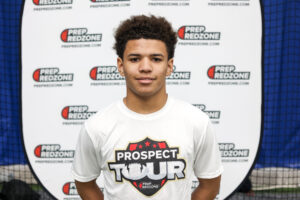 Davis
Ethan Sims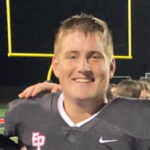 Ethan Sims 6'7" | OL Eden Prairie | 2024 MN  (Eden Prairie) OT. 6'7, 280 lbs. Rose his stock from #44 to #13
With eye-catching size for collegiate OT prospects, Sims primarily played on soph/JV in the high-powered Eden Prairie program and put some impressive reps on tape as an offensive guard/tackle and defensive tackle. His 280 pounds is still lean, but he's strong enough to be an enforcer in the run game and he's got a good rep of running downfield and blocking a DB in space as well as some overall flexibility that makes me very excited for him to get varsity action. Sims shows good leg drive on offense and a quick first step when playing DT, and his athleticism should translate well to faster and stronger varsity opponents. Now he's just gotta do it against the big boys!
Tait Anderberg Tait Anderberg 6'6" | OL Lakeville North | 2024 State MN  (Lakeville North) OT. 6'6, 300 lbs. Rose his stock from #31 to #20
Anderberg is another member of the loaded top-tier 2024 OL recruits and comes out of football-rich Lakeville, and when you combine that with a 6'7, 300-pound frame and some varsity in action as a sophomore last fall and you have a sizeable amount of positives going his way heading into his upperclassman campaign. Anderberg is already a noticeably strong kid with heavy hands who can wash down varsity and JV DL out of the play and punish JV LBs at the second level. He also can get so low in his stance that it looks like he's in a four-point, and he fires off the ball well for a 6'6 – 6'7 offensive lineman. We'll see how this offseason has prepared him for varsity action soon! I can't wait.
Ezra Diederich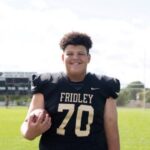 Ezra Diederich 6'6" | OL Fridley | 2024 State MN (Fridley) OL. 6'6, 340 lbs. Rose his stock from the watchlist to #44
Fridley doesn't subscribe to Hudl anymore, so it's harder to get film on Tiger prospects than other programs in the state, so I haven't been able to watch much from the rising junior behemoth but very much appreciated 24/7Sports and GopherIllustrated publisher Ryan Burns giving the OT a shoutout after Diederich's performance at one of the Minnesota Golden Gopher's recent prospect camps in Dinkytown this summer. He's still got some work to do on his body, but it sounds like there's some athletic upside and attractive physical gifts, so Diederich was an easy choice to get a bump from the watchlist and into the Top 50. Thanks again to Ryan Burns for the note on the Fridley monster!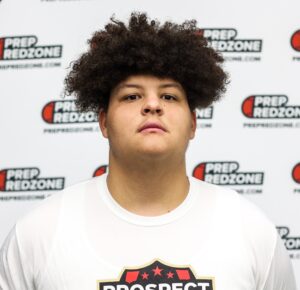 Diederich
Will Steil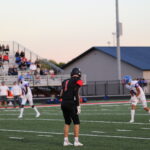 Will Steil 6'1" | DB Rocori | 2024 State MN  (Rocori) DB. 6'1, 185 lbs. Rose his stock from outside the Top-50 to #35
There are some long, rangy DBs in the 2024 MN class at both the safety and corner positions and Rocori's  Will Steil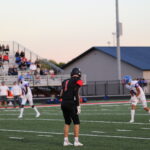 Will Steil 6'1" | DB Rocori | 2024 State MN  is an alluring one, with strong bloodlines (brother played/plays baseball at Nebraska & NDSU), a very effective speed turn, and quickness coming out of his breaks. He's also long for a CB, will support the run and understands protecting the edge and sideline, and is coming out of a 4A program in Rocori that has produced multiple NFL players and a heckuva lot of two-sport studs over the past two decades. Steil has a chance to keep rising as he now sits right outside the Top-30 after this last update.
Conner Connell Conner Connell 6'4" | TE Luverne | 2024 State MN  (Luverne) TE/LB. 6'4, 225 lbs. Rose his stock from #14 to #10
Also a prolific baseball recruit, Connell continues to add weight to his already impressive 6'4 frame and has grown 15-20 pounds since his sophomore football season ended last fall. An easy choice for 2024's TE1, Connell still has some deciding to do on whether he'll play football or baseball in college, but for now, the Luverne product is open for business in both sports. He looks great as an inline TE, with real YAC capability and some strength at the point of attack as a blocker. He's also got the speed to shoot gaps as a LB and eat TFLs for breakfast as well as get his hands up and into passing lanes for PBUs. There's some explosiveness in that excellent frame and that made it easy to move him into the Top-10. I hope he keeps his options open and keeps playing football, he's got the makings to be a good one.
Aiden Horel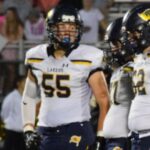 Aiden Horel 6'4" | OL Prior Lake | 2024 State MN  (Prior Lake) OT. 6'4, 305 lbs. Rose his stock from #9 to #5
OL1 for 2024 comes out of the fertile and only-growing-stronger Prior Lake Lakers. The 6'4, 300+ lber. is already a varsity starter against some of the Metro's premier DL competition and plays against Gophers DL commit Martin Owusu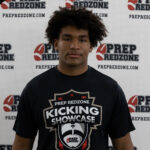 Martin Owusu 6'4" | DL Prior Lake | 2023 State MN every day in practice as well, which bodes well for his future as a now-upperclassman OT. He's a powerful and bruising run blocker with great pad level, hand placement, and foot drive, and I also like his strength in his initial pop and when he's already engaged and working to finish. In a class loaded with offensive line talent, he's done a good job of distinguishing himself as boss hog at this point in time. Now we have to see how he builds on his game going forward!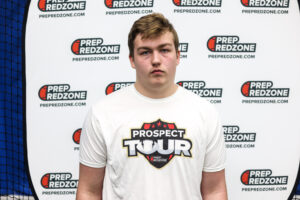 Horel
Mason Carrier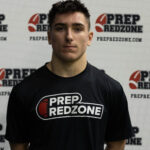 Mason Carrier 6'2" | LB Detroit Lakes | 2024 State MN (Detroit Lakes) LB. 6'2, 205 lbs. Committed to Minnesota. Rose his stock from #21 to #3
I had Carrier far too low last update, and he rightfully takes his spot in the Top 3 after this latest update. The only commit in the 2024 class and first member of the Gopher's '24 commitment class, Carrier has a ton of twitch as a LB and P5-worthy athleticism that shows up in his elite testing numbers such as his 4.7 40, 4.15 short-shuttle, and 10'3 broad jump that he recorded at our PrepRedzoneMN Showcase this past April. He also rocks an excellent frame and lays the fricken wood as a LB and FB. Him and his brother are going to tear it up in Dinkytown.
Dylan Gross Dylan Gross 6'2" | LB Brainerd | 2024 State MN  (Brainerd) LB. 6'2, 220 lbs. Rose his stock from #13 to #4
I'll keep this one short, as I've written about Gross a ton lately and don't want to get repetitive, but this kid is a thumper and plays physically and like you'd hope a solid 220 lber. would play like. He takes great pursuit angles to the ball and is a crushing tackler who is going to make you feel him when he gets ahold of you. I cannot wait to see him lay the wood in 2022.
Wyatt Gilmore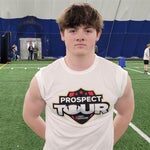 Wyatt Gilmore 6'4" | DL Rogers | 2024 State MN (Rogers) DE. 6'4, 240 lbs. Rose his stock from #7 to #2
Another player who has received a lot of coverage lately, Gilmore rightfully takes his spot in the upper echelon of the 2024 recruiting ranks and is the most popular rising junior in Minnesota with six D1 offers from FCS, FBS, and P5 suitors. An excellent athlete at his size, Gilmore has a balanced skill set and rushing attack that can beat OTs to either shoulder and was productive as a sophomore playing varsity ball for the Royals. The kid is a stud.