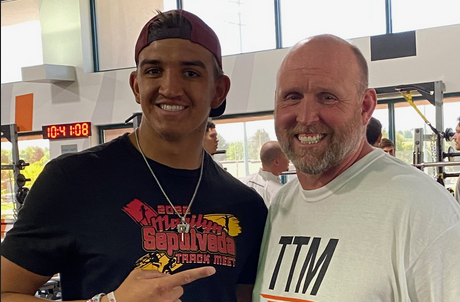 Posted On: 06/19/22 1:23 PM
2023 Deming defensive lineman Ian Ortiz Ian Ortiz 6'3" | DL Deming | 2023 State NM , one of the top players in the state at his position, came into Saturday's Idaho State camp in Pocatello, ID with the mentality that he was the best DL prospect there.
Then Ortiz went out and proved it, capturing OL/DL MVP honors.
His reward? A scholarship offer from Idaho State, member of the Big Sky Conference, one of the best FCS conferences in the country.
"I came into the camp with the mentality that I'm the best defensive lineman here," Ortiz told Prep Redzone New Mexico just a few hours after ISU offered. Of course, I had no idea if that would be the case. But I believe I'm pretty good. It's all about your mind set."
Idaho State coaches were so impressed with Ortiz's performance that they quickly offered him after the camp, telling him he could play multiple positions across the defensive front.
"The conversation between the coaching staff at Idaho state and myself was very positive," Ortiz said. "They were very clear on wanting me to play for them. If I choose to play for Idaho State, I may be used as a 5/3 technique defensive lineman, meaning I