The Future Stars Game features many of the nation's top talent. The 2022 version of this game features athletes in the 8th grade (2026), 7th grade (2027) and 6th grade (class of 2028) in the states from Georgia, Florida, North Carolina and South Carolina. Below, here's a look at the athletes that stood out from the South Carolina sixth-grade team during the practices.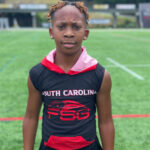 Cl'Menta Crosby | Wide Receiver
Crosby was the first prospect that caught my eye for the South Carolina 6th grade Future Stars. He's certainly on the smaller side, even for a sixth-grader but he was an electric play maker. Whether he lined up in the backfield or out in the slot, he caught everything thrown his way. Very reliable hands and polished routes for just a 2028 prospect.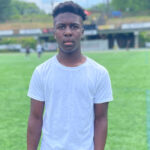 Jah'meer Martin | Running Back
Martin was a workhorse back for the South Carolina Future Stars. He was the biggest of the backs they rotated in and out throughout the week. Loved the way Martin ran hard. He easily broke arm tackles and made it a chore for the second and third levels to bring him down. Not just a power guy either, he had pretty good speed to go along with it.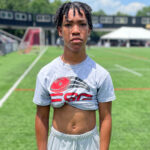 Jaedin Thomas | Running Back
Every offense needs a type of Swiss Army Knife and that's what Thomas was for this group. He took reps at both Running Back and Wide Receiver during the practice. Showed off pretty good hands throughout the practices and above average vision.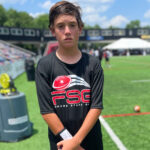 Ryan Brochu | Quarterback
Was the obvious more natural Quarterback of the two listed on the roster. Through a very nice deep ball throughout the week. Displayed pretty good velocity and a tight spiral on literally every pass I aw him throw during practice. Also liked his height at a good 5-foot-8 and change. Needs to develop a bit more confidence as the leader of the offense, but he's going in the right direction.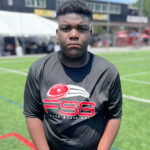 David Hall | Defensive Line
The biggest young prospect on South Carolina Future Stars was Hall. On the roster at 5-foot-9 and 278 pounds, he was a load on that interior Defensive Line. Athletically and fundamentally has a long way to go, specifically in using his hands. However, he was a disrupter all week long and consistently found himself in the backfield during inside run sessions.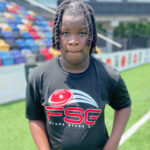 Jolsten Flowers | Defensive Line
Flowers is another interior Defensive Line prospect that disrupted the offense on a regular basis throughout the week of practice. The 5-foot-7, 193-pounder was a tough one to figure out. At times he was a bully in the trenches blowing up the Guards and Center. At other times coaches really had to get on him to play harder. Granted it was north of 100 degrees and humid, but needs more consistency.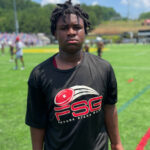 Lyndez Smith | Defensive Line
The top Defensive Lineman for the South Carolina sixth grade Future Stars was Smith, in my opinion. The 5-foot-8, 223-pound prospect flat out took over practices during periods. Coaches let their Ends rush 1-on-1 against the Tackles and Smith used exceptional feet to win every time. Coaches then moved him inside and went against the Guards/Center and used his power to win. He was tough.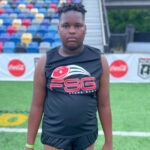 Tavion Nelson | Offensive Line
Nelson is a prospect with a lot of upside, due largely in part to his build and frame. Listed on the roster at 5-foot-8 and 212 pounds, he is a very high cut athlete. If an athlete is "high cut" that means they have long legs–which is certainly a trait to look for in future Offensive Tackles. Obviously has a long way to go being this young, but the potential here is scary.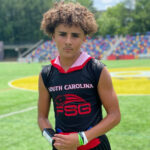 Jacoby Hunt | Athlete
Hunt was clearly the more athletic Quarterback of the two listed on the roster–which is probably why he was an outstanding target on the outside at Wide Receiver.  Could quickly tell that Quarterback wasn't his natural position, yet he was somewhat effective there. However, his true value and ability shined brightly as a receiver. He was a big, strong target and by game time, he became the go-to.