The 2022 high school season is just three months away and teams across the state are getting ready this summer for a big season. The peach state has produced elite quarterbacks year after year and there are plenty who are bound for breakout seasons in 2022.
Here are some promising quarterbacks who have the potential to have a breakout season this fall…
Hayden Thompson Hayden Thompson 6'3" | QB Hebron Christian Academy | 2023 GA – Peachtree Ridge
An effective quarterback with a quick release, Thompson is coming off a quiet but productive season for a struggling Peachtree Ridge team, but there's a chance they take a big step forward with Thompson at the helm. He's a hard worker, has a D1 frame, and puts the ball exactly where it needs to be. He's accurate down the field and throws a very catchable ball. He may not have elite arm talent, but he's a smart quarterback who knows exactly where he should go with the ball before the play starts. His ball placement is impressive and puts it in a position where his receiver can make a play on it. He's accurate throwing down the sideline and can put some zip on the ball over the middle. Look for him to have a big season as a senior this fall.
JD Davis – Grayson
The Rams were in desperate need of a quarterback last season, but it looks like they have their man this season in 2024 gunslinger, JD Davis. A transfer from Warner Robins, Davis has been very impressive all spring during the camp circuit and has started to make a name for himself. The 6-foot-2 190-pounder has plenty of size and he's shown a strong arm this spring at multiple camps. He throws the ball accurately down the field and makes it look easy at times. He's still developing as a passer, and he doesn't have a ton of experience, but it's easy to see the talent he possesses. His raw arm talent and ability to run will give him a chance to have a very good season as a junior. He has plenty of weapons around him, so if he can distribute the ball evenly and doesn't turn it over much, he should have Grayson right back to where they expect to be, and that's competing for a championship. He's easily a breakout QB candidate to know about this year.
Julian Lewis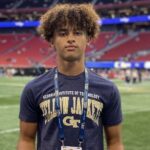 Julian Lewis 6'3" | QB Carrollton Jr | 2026 GA – Carrolton
Don't let his age fool you, the incoming freshman at Carrollton has all the tools to be a 5-star quarterback and one of the nation's best in the 2026 class. He's dominated in middle school and has been a name on the recruiting scene for a while now. He'll only be a freshman this fall, but Lewis already has the size and arm talent to have an excellent season in his first year. He'll be playing for one of the top programs in the state and his future could not look brighter. He is fundamentally sound and has worked with some impressive quarterback trainers for years now. He knows what he's doing, he's accurate, he's mobile, and he already holds plenty of D1 offers including Georgia, Alabama, Florida, Georgia Tech, among others. The impressive 6-foot-1 175-pounder has a chance to break records over the next four years, and he's already thought of as one of the top 2026 prospects in the country.
Ty Watkins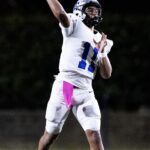 Ty Watkins 6'3" | QB South Forsyth | 2023 State GA – South Forsyth
Watkins may be coming off a strong junior season last year where he threw for just under 2,000 yards and 18 touchdowns, but he's still getting better, and he could be bound for a monster senior season for the War Eagles who are looking to get back to the playoffs. Watkins is a veteran quarterback now and leader on the team, and he's got two speedy receivers to throw too in Josh and Chris Nelson Chris Nelson 5'8" | WR South Forsyth | 2023 State GA . He plays in a quarterback-friendly offense and throws a nice, catchable ball down the field. He's grown a lot since this time last year and he might be the best quarterback in the region going into the season. He's becoming a better and better runner, but his arm is what can take the War Eagles far this fall. His accuracy is improving, he can push the ball down the field, and if he continues to improve more and more each practice heading into the season, he could see some serious D1 interest coming his way.