Part two of my multi-sport athlete track and field series focuses on football players starting their senior seasons soon and finishing their junior seasons, placing in the state track and field competition's largest class – Class AAA. The featured athletes include all types – from defensive linemen to outside receivers.
Martin Owusu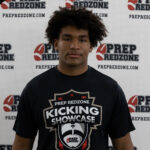 Martin Owusu 6'4" | DL Prior Lake | 2023 State MN DL Prior Lake 11th discus
Owusu uses his arms very well to keep distance from himself and blockers. He can control the line of scrimmage because he has a wide and strong base. His lower body makes it challenging for blockers to move him off the line or even get him turned away from the play. Taking on double teams is a big part of any 3-4 defensive end's responsibilities. Owusu does that but is also athletic enough to be a factor on the pass rush and athletic enough to cover a ton of ground laterally. Owusu is also explosive off the ball, often beating offensive linemen off the line of scrimmage. His straight-line speed allows him to track plays on the opposite side of the field.
Hayden Bills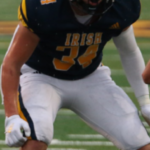 Hayden Bills 6'4" | DL Rosemount | 2023 State MN DL Rosemount 1st discus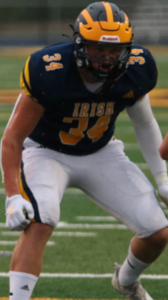 Like Elinneus Davis Elinneus Davis 6'2" | DL Moorhead | 2023 State MN from my previous story, elite discus throwers – like Bills – combine strength with explosion. That fits the Irish defensive lineman to a tee. He is quick off the ball, making him an ideal pass rusher off the edge. However, he is not so aggressive that he gets out of position against the run. He breaks down quickly and uses his upper body to keep offensive linemen off his legs and away from his body. Bills has the speed to track plays from the backside but also has the power to hold the edge in the running game. As a tight end, he can hurt defenses in the passing game and can be a devastating blocker – especially at the second and third levels.
Devin Jordan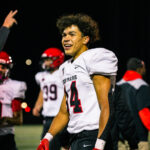 Devin Jordan 6'2" | DB Eden Prairie | 2023 State MN DB Eden Prairie 3rd high jump
Jordan lines up all over the field, playing like his hair is on fire. He is just as likely to be lined up as a deep safety as he is to be lined up on the line of scrimmage. The Eagles' defensive back has excellent closing speed. When he sniffs out a running play, Jordan doesn't just come up to support the run – he flies up the field to get involved in the running game. Although he is coming at full speed, he quickly breaks down and is under control – ready to make a tackle in the open field. That speed and aggressiveness help him close out on routes and cover a ton of ground as a deep safety.
Charlie Gleason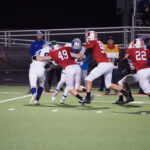 Charlie Gleason 6'5" | DL Stillwater | 2023 State MN DL Stillwater 9th discus
If I had to describe Gleason in one word, it would be relentless. Over and over on tape, he looks like he is out of the play. Somehow keeps coming up with tackles at or near the line of scrimmage. As a 3-4 defensive end, he often takes on more than one blocker but just keeps coming. Quickness and speed are his biggest attributes on the football field. He can wreck any angle an offensive lineman thinks he has on him because of his quick first step. He is rarely out of a play because of his speed and determination to get to the ball carrier.
Kade Gilbertson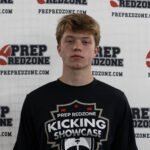 Kade Gilbertson 6'1" | LB Rosemount | 2023 State MN LB Rosemount 9th 4X100, 4th 4X200, 2nd 4X400
Gilbertson is a physical outside linebacker who excels at setting the edge and getting off blocks in the running game. Instead of getting hit, Gilbertson usually delivers the blow, getting the blocker back on his heels. While setting the edge, his superior leverage and hands allow him to get off blockers and get back into the play. He is just as comfortable on the line of scrimmage as he is in the more traditional outside linebacker depth. He is most effective against the run or rushing the passer but is a good enough athlete to get depth and defend the pass.
Grayson Spronk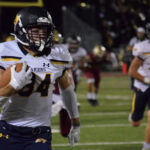 Grayson Spronk 6'1" | RB Prior Lake | 2023 State MN RB Prior Lake 8th 100
Spronk is the definition of a home run hitter in the backfield. Once he gets in the open field, he is a threat to go the distance. He has the speed to get the corner even if it doesn't get blocked correctly. Although speed is his best asset, defenders are not going to arm tackle Spronk very often – as he can bounce off tacklers if they don't wrap up. While not a scat-back type of runner, his subtly solid footwork allows him to make quick cuts in the open field. Spronk also is a threat out of the backfield in the passing game and as a kick returner.
Michael Haugo Michael Haugo 6'4" | WR Moorhead | 2023 State MN WR Moorhead 7th 4X200, 3rd long jump, 3rd 4X100
Haugo is a real problem in the red zone with his length and jumping ability. Already taller than most defensive backs, a well-placed ball on a fade will be impossible for a defensive back to defend. His strong hands also help him win the most contested balls. Based on his frame, he doesn't look like he is physical, but on film, the first man rarely gets him down, and if he does, Haugo is falling forward. He is thrown to in the flat a lot, and when he gets the ball in the open field, he makes plenty of people miss.
Michael Gross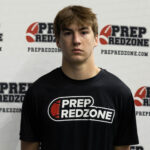 Michael Gross 6'3" | WR Eden Prairie | 2023 State MN WR Eden Prairie 5th 4X400, 4th 400, 1st 4X200
Based on his performance at the State track meet, it is obvious Gross has the speed to take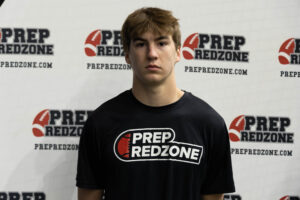 the top off defenses. Once he is in the open, he does a great job adjusting to the deep ball. He uses his hands effectively and rarely lets the ball get into his body, making it easier to catch the ball and also helps to keep space between the ball and defenders. He attacks underneath throws – coming back to the ball aggressively and again – making it challenging for defenders to get to the ball. Gross is also both a willing and effective blocker in the open field.
Jonathan Shrum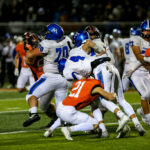 Jonathan Shrum 5'11" | DB Farmington | 2023 State MN DB Farmington 8th 4X200
From Impressive live and coming back for more – playoff addition:
Shrum has outstanding instincts at the safety position. His breaks on the ball look even better because he anticipates so well. He has excellent athletic ability and gets up in the air to deflect passes and make picks. The Tigers' coaching staff is not afraid to get Shrum involved at the line of scrimmage. He blitzes off the edge as effectively as a linebacker and hits almost as well. He is a problem on special teams. He is a good kick coverage guy – and like in the game I watched – a threat to block punts and field goals. He had at least three blocked kicks in 2021.