DULUTH— We close the book on our in-person evaluations from the North Shore by taking a look at the final list of standouts from the UMD Prospect Camp last Monday. These six prospects really sealed the deal in my eyes to defined themselves as next-level material when it came down to evaluating their skillsets from top to bottom. Take a look at the Minnesota and Wisconsin prospects that balled out at UMD!
Tommie King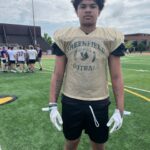 Tommie King 6'2" | ATH Greenfield | 2023 State WI | DE/TE | Greenfield (WI) | 2023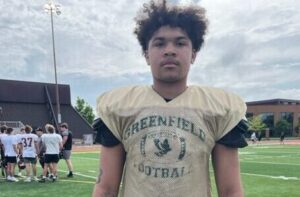 Tommie was a monster that was fundamentally sound from my eyes thru the duration of the UMD Prospect Camp. The athleticism he showed from start to finish showed a ton of upside in his game in the trenches. Watching in 1v1s being able to adjust back quickly when he did fall out of his stance from a offensive linemen's punch showed to me that this young man has the capability to play on Saturdays. When you roll the tape, there is a lot to like about this young man's vision as he's able to maneuver well around his zone to find exactly where that ball carrier is going. He also shows solid contact with his hitting ability and I believe there is more in the tank in this young man to develop an even stronger punishing inside the trenches. With improved burst off the line, I could see Tommie moving to the linebacker spot at the next level but yet, he also shows an athletic gene that could be a strong small school tight end as well. I believe this young man has so much upside that is still untapped and I know my Wisconsin scouts cannot wait to see what this kid can do in his senior season coming up in just a couple of months.
Broden Flackne | RB/NG | Sauk Rapids-Rice (MN) | 2023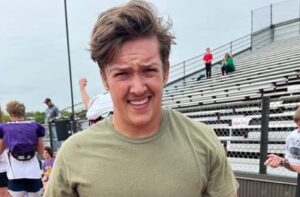 If there is one thing I grasped from Broden from my last in-person evaluation to this one at the UMD Prospect Camp, is that this kid has become no stronger in the weight room. He's strongly developed on his burst and has become more agile between the tackles from my last viewing. Based on the tape, Broden gets the hard-nosed yards inside for the Storm as he's a punisher in there and loves eating up contact whenever he gets the chance and after watching him last Monday, it totally makes a lot of sense. Broden also lines up at nose guard defensively, and he's a meat-eater on that inside zone that shows quick reactive footwork to get to the ball carrier quickly. When Broden gets downhill with his runs, be careful if you are a linebacker as you'll want to make sure you make solid contact otherwise his 5'9 195 pound frame might take you an extra 5+ yards. I would love to see Broden develop stronger vision to make that zip to the outside to extend his runs. I also really like this kid's character, as he shows off a prospect that is a team-leader for the Storm and one that holds his teammates accountable. Certainly a small-school prospect I would want on my roster on Saturdays.
Jake Tepley | QB | Braham (MN) | 2023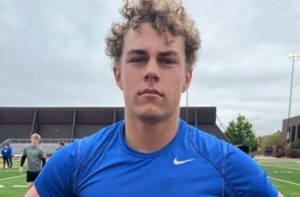 Jake was a first look QB prospect I got my first eyes on last Monday and I came away impressed with his skillsets in a camp setting. His mobility showed off well not just in drills, but he also ran a 4.64 40 yard dash from my hearing. Watching his tape, Jake has the ability to get outside the pocket and extend the play, and still make a precise throw especially on his intermediate or deeper routes. That athleticism noted, might place him stronger as a WR at the next-level and with a strong senior season, I certainly think he has the chance for a next-level opportunity with more tape being available for this Braham Bomber prospect.
Jackson Young Jackson Young 6'1" | RB Lakeville North | 2023 State MN | LB | Lakeville North (MN) | 2023
The first thing that came to light about Jackson in the early reps from Duluth was just how quick this young man was when he needed to change directions, as that was one of his best skillsets I saw on our gloomy day in Duluth. Jackson has a eruptive level of finesse that just clings to the football and can be described as a sideline to sideline type of prospect you will want on your college roster. His adrenaline he shows with his hands to get off his defender is probably why Jackson has a few D2 offers brewing already. He's got that drive-back force of physicality in his 6'1 185 pound frame that would line up well as a college level free safety, as you can trust this young man to make a play on any level of the field you need. I am sure he will be getting more NSIC attention as the summer grows into fall, as there is a lot to like about Jackson as far as the next level goes.
Trevor Foemmel Trevor Foemmel 6'2" | QB Marshfield | 2023 State WI | QB | Marshfield (WI) | 2023
Trevor was one of the most athletic quarterbacks I got to watch in Duluth. The consistency from this young man was intriguing to watch as he did well in the early testing and got a taste of working on throws in tough conditions and faired solidly in Indy drills. When I evaluate prospects, consistency is key and like Trevor, showing off his athleticism and his willingness to learn and develop from coaching, is why this young man has some next-level skills. The biggest development I see for Trevor going into his senior season is his balance on his deeper throws. He certainly has the strength to make those throws, but if I were grading QBs I would love to see him set his feet a little stronger even with some lighter pressure present. A grade A character prospect, that has put in some strong work this camp season from the 90+ degree heat in Sioux Falls to the 50 degree wind in Duluth.
Tate Milton Tate Milton 6'2" | DL Notre Dame Academy | 2023 State WI | DL | Green Bay Notre Dame (WI) | 2023
Tate was another first look prospect for me, but watching him get off the ball was a skillset that I enjoyed watching at the UMD Prospect Camp. He shows an energetic jump into the backfield and has the acumen to maneuver well with his 6'2 230 pound frame to create chaos even if the ball carrier is just outside of his zone inside. He has that reactive gene with his vision to identify where the ball carrier is very quickly and get there with brisk curiosity within the first few yards or less on tape. With all those skillsets being said, I am VERY surprised Tate doesn't have an offer yet as he certainly passed the eye-test for me as being a next-level prospect that has the tools to be playing on Saturdays, especially at the D2 level.
Drake Badger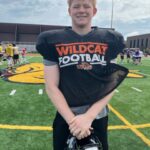 Drake Badger 6'3" | LB Verona | 2023 State WI | LB | Verona (WI) | 2023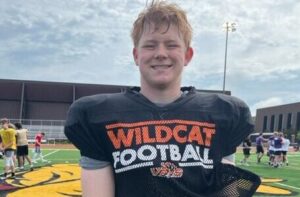 I said after camp and I meant it, this kid had by far the best work ethic I saw overall at the UMD Prospect Camp. It wasn't just his work ethic that stood out either, this young man has such a strong rhythm at adjusting his body really quickly to center his focus on the ball carrier as his change of the direction is so much fun to watch, as if I was a college coach I would dive into his tape ASAP. Drake's ability to energetically shed off blocks defines a LB prospect with a massive motor. He also shows a huge island he can defend as that reactive instinctive comes into play throughout the duration of the field from sideline to sideline. The 1st-team All Big Eight linebacker from Verona, has a very bright future with high momentum going into his senior season and solid size to add to his resume at 6'3. Another prospect on this list that is destine for a handful of offers this summer when camp season wraps up or before at the end of July.