DINKYTOWN– We check in yet again from Dinkytown as we have accumulated many notes on our scratch pads from prospects that turned the page on their future as probable college football prospects. We will end tonight with five prospects that lit a fire in our live in-person evaluations from the Gopher Camp a few weeks back!
Dawson Goodman | DB | Chippewa Falls (WI) | 2023
Dawson had one of the one of the better finished bursts and speed that I saw amongst defensive backs at the Gopher Camp. Dawson showed a waxing level of physicality when I watched him line up for 1v1s in Dinkytown. This young man is a ballhawk that will travel from sideline to sideline to make his tackles, as he wracked up over 120 tackles in his junior season for the Cardinals. What sizes up Dawson is the contact level he makes with his tackling ability, as he's a spot on tackler that smacks the ball carrier right in the sweet spot. You can always find Dawson climbing up the ladder from deeper end of the field to make a play. He's a consistent knock back safety that provides excellent assurance for his defensive unit in Chippewa Falls. He has some slight development with working his foot speed to change directions faster this offseason, but this kid a sure-fire college prospect that local D3 schools in the WIAC have already made an offer on to play on Saturdays, and I am sure he's due for the rest of the conference to get involved after a strong performance the Gopher Camp.
Keenan Wilson Keenan Wilson 6'2" | DL Eagan | 2023 State MN | DL | Eagan (MN) | 2023
By far my favorite prospect I got to watch in Dinkytown was defensive tackle Keenan Wilson Keenan Wilson 6'2" | DL Eagan | 2023 State MN from the Eagan Wildcats. This young man has extremely fast hands by not only getting off his blocks, but shows a fast trigger to get to the ball and make a play. I believe Keenan might have the fastest get off amongst defensive tackles in the state of Minnesota, as he gets into the backfield so quickly when he goes unblocked, which is a disservice to the offensive unit he is going up against. Keenan also has elite vision to dive early into the inside box to create chaos even when the hole is very tight to find the ball. His feistiness he has out the gates certifies this young man as a Division I prospect in my eyes. Some of the top programs in the Missouri Valley have been hot on this kid, but I can't say that I am surprised, as some of the top programs in the Missouri Valley have came thru with an offer and I am sure more will get into the mix this summer. Would love to see some group of five schools get involved too with Keegan's recruitment.
Max Lemke Max Lemke 6'2" | OL Park Center | 2023 State MN | OL | Park Center (MN) | 2023
Max was a hog molly prospect at the Gopher Camp that was quite impressive with his pad level as it remained very consistent with the duration of reps I got to watch in Dinkytown. Max has that finesse with his hands to be versatile from the center position. Once he gets his hands on you, it will turn into a downward spiral you don't want to get into. I also am impressed on tape of Max's multi-level engaging, as he can press his hands on one defender and then move slightly into the second level and get hands on a linebacker which is an undervalued trait I like to watch when evaluating the ole hoggies on the line. He fields solid placement from the first attack as well, which drives his defender into the into the opposite direction of his ball carrier before he makes that next move. Watching his tape, I am certainly surprised to not see a Division II NSIC program get in the mix, as I believe that is where his best football would be as a prospect that certainly has that next-level value when you watch his tape.
JP Doyle JP Doyle 6'0" | ATH Badger | 2024 State WI   | DB/QB | Lake Geneva Badger (WI) | 2024
JP showed off some great cutoff abilty when he was around the ball on multiple occasions as he level of consistency in Dinkytown stood out in my eyes.  Taking a look at his sophomore tape, you see defensive back prospect that is fluid in the high traffic areas and isn't afraid to use that vertical to go up and make a heavily contested interception. He has another level of game speed that comes out when progressing beyond the first level as his quick trigger allows him to show off that physicality in his game that college coaches will want to see as they start making contacts with this kid come September 1st. JP's quarterback tape shows off some physical traits that slide both ways especially in the run game. He shows a tough lower-body that is quite difficult to tackle in his 6'0 180 frame that plays much bigger that the measurables you will see. Offseason development on changing directions with a more fluid motion will really seal this young man's game.
Aiden Horel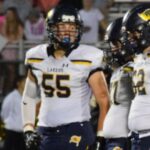 Aiden Horel 6'4" | OL Prior Lake | 2024 State MN | OL | Prior Lake (MN) | 2024
We have talked about Aiden significantly on our site, and let me just say this young man gave us more to talk about at the Gopher Camp in Dinkytown a couple weeks back. Aiden showed a sizeable ability as a OL prospect that maneuver his defenders well looking like a tree falling down in a storm to shove his way into the next-level. As a prospect I have been high on since finding his tape his freshmen season at Prior Lake, this young man just keeps developing not just on the field but in the weight room, as he's added 40 pounds of strength since my first look his freshmen season for the Lakers where he showed very high upside on the freshmen squad. His competitive balance shows a solid reach to attack from an angle to finish his defender on his rear end as he threads the needle with his pad level with solidity in place. Aiden also is a offensive tackle you will find blocking until that whistle blows, which is a a skillset that seeks above and beyond with the college coaches. Aiden certainly is another man in the trenches for the Lakers that has the skillsets to play Division I football in my eyes, something I saw very early from his freshmen season and say the same today.
Part III will certainly continue tomorrow, as the amount of prospects we have found with probable next-level ability at the Gopher Camp is a sizeable list to say the least!