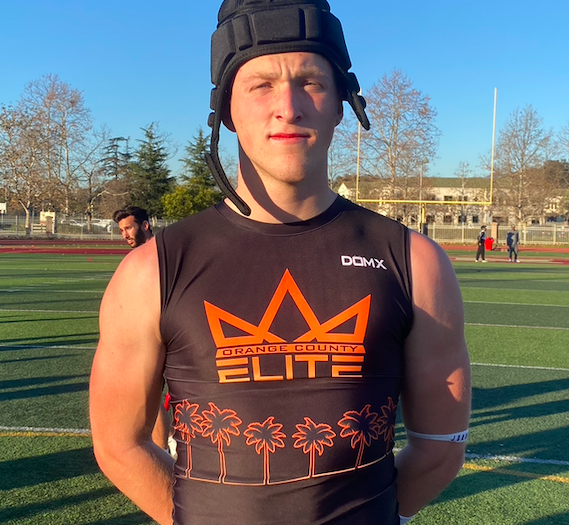 Posted On: 06/17/22 8:20 PM
Mater Dei (Santa Ana) tight end Spencer Shannon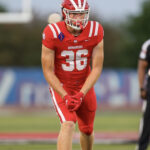 Spencer Shannon 6'7" | TE Mater Dei | 2023 State CA announced his commitment to Texas on Monday.
Shannon visited Texas last weekend and committed shortly after. His previous visits were to UCLA and Washington.
I saw Shannon at the TurfWars 7on7 tournament in January and he was one of the most physically impressive players of the day. He also performed well at the Under Armour Next All-American camp. He is 6-foot-6 or 6-foot-7, runs solid routes, has a large catch radius and has improved his speed. Shannon should be the biggest redzone threat for Mater Dei next season.
Shannon is the first player from California in Texas' 2023 recruiting class.
https://twitter.com/Spencer1722/status/1536447727784951808?s=20&t=wyMIO_AjLvfNLY0YF56a2w
---
Simi Valley defensive end Carson Mott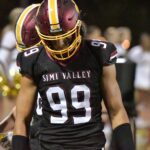 Carson Mott 6'5" | DL Simi Valley | 2023 State CA announced his commitment to Colorado on Monday.
He had 41 tackles, 10 for a loss with six sacks last season for a Simi Valley team that went undefeated in the regular season.
Mott was verbally committed to Cal in May but backed off that commitment weeks later. Arizona State, Colorado, San Diego State, and Washington State offered him shortly after he reopened his recruitment.
He is the third player from California in Colorado's 2023 recruiting class joining Spencer Shannon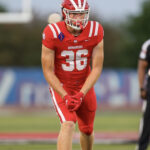 Spencer Shannon 6'7" | TE Mater Dei | 2023 State CA announced his commitment to Texas on Monday. Shannon visited Texas last weekend and committed shortly after. His previous visits were to UCLA and Washington. I saw Shannon at the TurfWars 7on7 tournament in January and he was one of the most physically impressive players of the day. He also performed well at the Under Armour Next All-American camp. He is 6-foot-6 or 6-foot-7, runs solid routes, has a large catch radius and has improved his speed. Shannon should be the biggest redzone threat for Mater Dei next season. Shannon is the first player from California in Texas' 2023 recruiting class. https://twitter.com/Spencer1722/status/1536447727784951808?s=20&t=wyMIO_AjLvfNLY0YF56a2w Simi Valley defensive end Carson Mott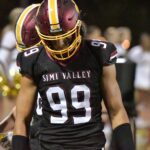 Carson Mott 6'5" | DL Simi Valley | 2023 State CA announced his commitment to Colorado on Monday. He had 41 tackles, 10 for a loss with six sacks last season for a Simi Valley team that went undefeated in the regular season. Mott was verbally committed to Cal in May but backed off that commitment weeks later. Arizona State, Colorado, San Diego State, and Washington State offered him shortly after he reopened his recruitment. He is the third player from California in Colorado's 2023 recruiting class joining Ryan Staub Ryan Staub 6'1" | QB West Ranch | 2023 State CA of West Ranch and Edward Schultz Edward Schultz 6'1" | WR JSerra Catholic | 2023 State CA of Mission Viejo. https://twitter.com/MottCarson/status/1536449808033980417?s=20&t=wyMIO_AjLvfNLY0YF56a2w Running back Brandon Johnson from Highland (Palmdale) announced his commitment to Arizona on Tuesday. He rushed for 1,580 yards on 169 carries with 19 touchdowns for Highland last season. Johnson chose Arizona over 11 other schools that offered him including Colorado State, Fresno State, Northern Arizona and Washington among others. He is a big play specialist who has the explosiveness to break a play from anywhere on the field. He has the speed to run outside and the physicality to run between the tackles. https://twitter.com/ballstar1515/status/1536855124433178625?s=20&t=wyMIO_AjLvfNLY0YF56a2w Ventura offensive lineman Tobias Raymond announced his commitment to USC on Monday. Raymond is 6-foot-7, 270 pounds and is one of the better offensive linemen in Southern California. He took an official visit to USC last weekend and committed shortly after. Raymond joins a loaded 2023 recruiting class at USC that is ranked No. 12 in the nation according to 247Sports. https://twitter.com/TobiasRaymond9/status/1536537499270410241?s=20&t=wyMIO_AjLvfNLY0YF56a2w