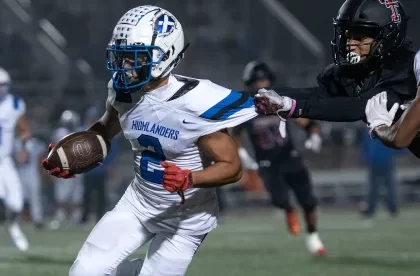 Posted On: 06/20/22 10:00 PM
La Habra receiver and defensive back Jacob Apodaca was offered by Benedictine College this week.
Apodaca led La Habra in receiving last year with 666 yards on 31 catches and 10 touchdowns. He was also a kick returner for the Highlanders last season.
He was also offered by Cornell last week and he holds offers from Adams State and Whittier College.
Benedictine has recruited hard in Southern California the past few seasons and have multiple players from Orange County on the current roster.
https://twitter.com/jacobapo_/status/1535840446844268544?s=20&t=tw5WMYOPuoHKYZPtAAG33A
---
La Jolla running back and linebacker Justin Scully received an offer from Bowdoin College last week.
Scully rushed for 471 yards on 103 carries with three touchdowns last season. As a linebacker, he had 33 tackles with a sack and two fumble recoveries.
He earned All-Western League honors as a linebacker and is a 4.5 GPA student. In May he got his first offer from Grinnell College.
https://twitter.com/JustinScully7/status/1539050777079062528?s=20&t=tw5WMYOPuoHKYZPtAAG33A
---
Brentwood (Los Angeles) linebacker Joe Bagley was offered by Cal Lutheran last week.
He had 75 tackles, four for a loss with a sack last season for Brentwood.
Bagley was also offered by Puget Sound last week. He also holds offers from Macalester College, Whittier College,