Louisiana doesn't produce the quantity of tight end prospects annually as the state does many other positions.
But the 2023 class appears poised to continue a notable run as the position with a few likely Division-I talents and, for a third straight year, at least one Power-Five player.
Here's some of the latest information on the five tight ends in the state's most recent rankings update, including a pair in the top 100.
Will Randle Will Randle 6'4" | TE Newman | 2023 State LA — 6-4, 220 TE — Newman
Fans who have enjoyed watching Arch Manning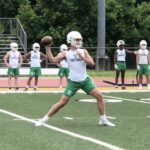 Arch Manning 6'3" | QB Newman | 2023 State LA find Randle all over the middle of the football field throughout their high school careers will have the chance to watch that connection continue at the next level. Four days before the highly touted quarterback announced his commitment to Texas, his close friend and longtime receiving weapon shared his own plans to sign with the Longhorns later this year. Randle had several options from which to choose, including home-state LSU.
Micah Johnson Micah Johnson 6'2" | ATH Parkview Baptist | 2023 State LA — 6-2, 210 TE — Parkview Baptist
In addition to where in the country the Eagles' standout will play, one of the biggest question marks for the versatile athlete will be where on the field he may play. Johnson broke onto radars as an underclassman receiver with good speed and a smooth stride for his size before transitioning more to a a strong safety or outside linebacker role as a junior. Several programs, even SEC rivals LSU and Ole Miss, have monitored his development and recruited him to various degrees the past couple years, including spring offers from Southeastern Louisiana, Nicholls State, Northwestern State and Louisiana Christian. He attended Louisiana (Lafayette) and Southern Miss camps in June and plans to attend Houston's later this month. And Johnson said those seven schools and South Alabama have been among the most heavily in contact this summer.
Collin Franta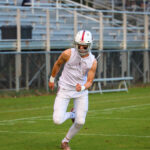 Collin Franta 6'6" | TE Dunham | 2023 State LA — 6-6, 220 TE — Dunham
The long, lean, but physical athlete with a 4.0 GPA has continued to balance his on-field and in-classroom performance and development in impressive fashion as he eyes the best college fits in both areas with programs like Tulane close to home or Ivy League members in the northeast. Like Johnson, his positional fit could end up being on defense depending on staffs, schemes and depth charts, but he has shown Division-I potential on either side of the ball. Minor injuries have slowed his summer down as he works back to full health for his final high school season. But his first offer arrived from Austin Peay this spring, and he continues to hear from the Governors, as well as Tulane, Louisiana (Lafayette), ULM, Nicholls State, Northwestern State, Memphis, Brown and Yale.
Justin Brooks Justin Brooks 6'3" | TE John Curtis | 2023 State LA — 6-3, 225 TE — John Curtis
The Patriots' big blocker and pass-catcher has been largely under the recruiting radar thus far, but a couple colleges around the region have started to take notice. Arkansas State extended Brooks his first scholarship offer in May and invited him to camp, and UTSA will have him on campus later this month.
Jack Davlin Jack Davlin 6'2" | TE Calvary Baptist | 2023 LA — 6-2, 230 TE — Calvary Baptist
The transfer from North DeSoto shifted into more of a linebacker role at Calvary Baptist and showcased his physicality in the middle of the defense. Davlin visited Grambling State in March, but is currently working his way through a torn labrum that has cost him the summer camp circuit and potentially his senior season this fall.